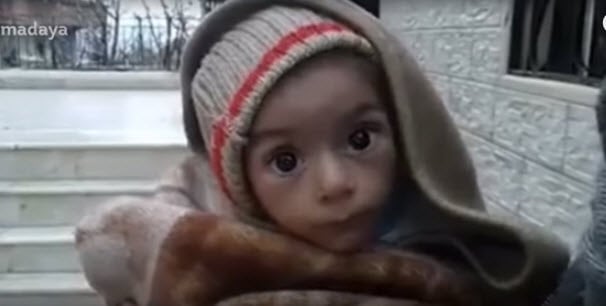 Residents of the Syrian town of Madaya say they are dying of starvation as many resort to eating leaves, grass and insects to survive.
More than 30,000 people have been trapped in the besieged town since July and are becoming increasingly desperate with the price of rice sky-rocketing to as much as $US250 a kilogram — some are reported to have even killed and eaten their pets.
A video posted on the Al Jazeera's AJ+ shows horrific footage of children, gaunt and malnourished, one of whom says he has not eaten anything for up to a week.
Residents of the rebel-held town are believed to have been without food aid since October when the United Nations managed to gain safe passage for a shipment of expired biscuits.
The government-held towns of Foah and Kefraya, in Syria's north-west are also reportedly without food.
"People are dying in slow motion," Louay, a social worker from Madaya, told the Guardian over the phone.
"We had some flowers growing in pots at home. Yesterday, we picked the petals and ate them, but they were bitter, awful.
"I've personally seen people slaughtering cats to eat them, and even the trees have been stripped of leaves now.
"We used to say nobody could ever die from hunger, but we have seen people actually die of hunger."
Other activists inside the town have shared photos on social media of the emaciated bodies of old men who have died and images of starving children, like the boy in the image below being transported in a smaller child's pram because he is too weak to walk.
Many children have also lost limbs searching for food in the minefields that surround Madaya.
The images, video and stories coming out of Madaya can not been verified because of the siege, but they have been corroborated from several sources.
Vice News reports that as many as 31 residents of the town may have already died of starvation.
Rajai, a 26-year old teacher from the town told them, again via telephone, that he has not eaten a real mean in three months.
"I had strawberry leaves for dinner today," he said.
"Kids are eating leaves off the trees, and the very old and very young are dying."
The International Committee of the Red Cross (ICRC) described the situation in the Madaya, Foah and Kefraya as "extremely dire".
"People were living there without basic supplies," ICRC spokesman Pawel Krzysiek told the BBC.
"The winter obviously makes things worse, with people desperately trying to get what they can to power their stoves — including burning plastic, which results in respiratory problems."
Mr Krzysiek said it was the ICRC's "utmost priority" to deliver aid to the villages, but warned that it still had to negotiate access.