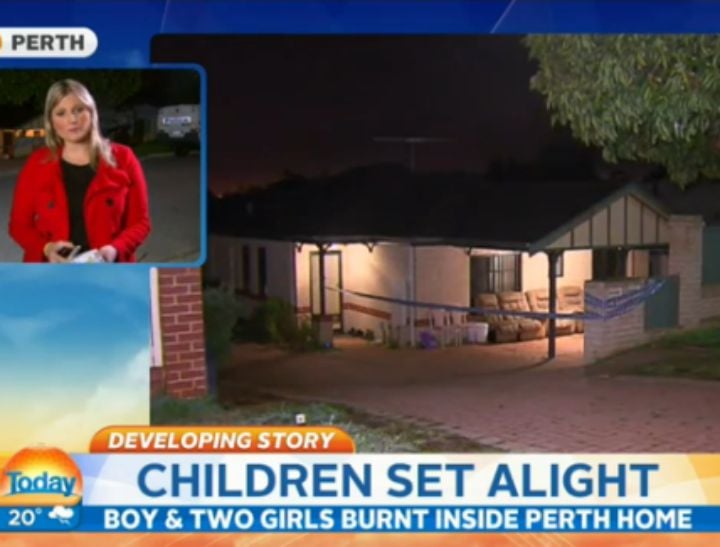 We've rounded up all the latest stories from Australia and around the world – so you don't have to go searching.

1. A man has been charged after allegedly setting three children on fire in Perth.
Two young children are being treated in for burns after they were allegedly set alight after being doused in a flammable liquid.
The young girls, aged three and seven, have been treated at the Princess Margaret Hospital while a third victim, a six-year-old boy, remains with family.
The ABC reports that the three-year-old girl is in a critical condition after suffering extensive burns.
Police were called to the Doubleview home just after midnight after it was reported that a 43-year-old man was making a disturbance at the Holbeck Street residence.
He was arrested and has been charged with one count of aggravated grievous bodily harm and two counts of attempted grievous bodily harm.
Police believe further charges will be laid as the investigation continues.
2. Christopher Pyne says he supports gay marriage.
Federal Education Minister Christopher Pyne has followed former Prime Minister Julia Gillard's lead and come out in support of same-sex marriage.
Whilst promoting his new book during a National Press Club interview, Mr Pyne said that gay marriage would allow more legal certainty for children raised in same-sex families.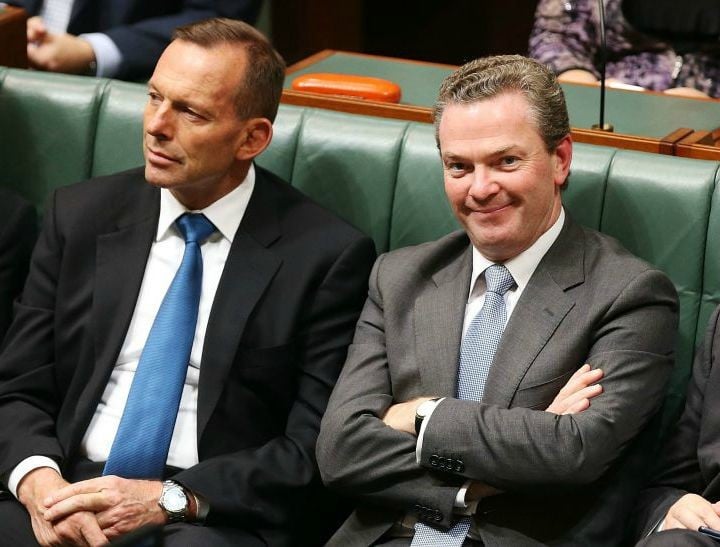 Branding situations in which long-term gay and lesbian foster parents have lost custody of children in their care as "wrong", Mr Pyne said that those in that situation deserved to have their relationships recognised so that the law would provide them with greater protection.
"South Africa, UK, the US, Ireland, New Zealand, most of the European countries have managed to do this without the sky falling in," he said. "And I think Australia will end up going in this direction."
3. Prime Minister under pressure over Operation Fortitude controversy.
After public backlash led to the controversial Operation Fortitude being cancelled the Prime Minister is under pressure to explain why the Australian Border Force would be stopping people for visa checks.
Roman Quaedvlieg, an ABF commissioner, said that the news release regarding Operation Fortitude was "clumsily worded".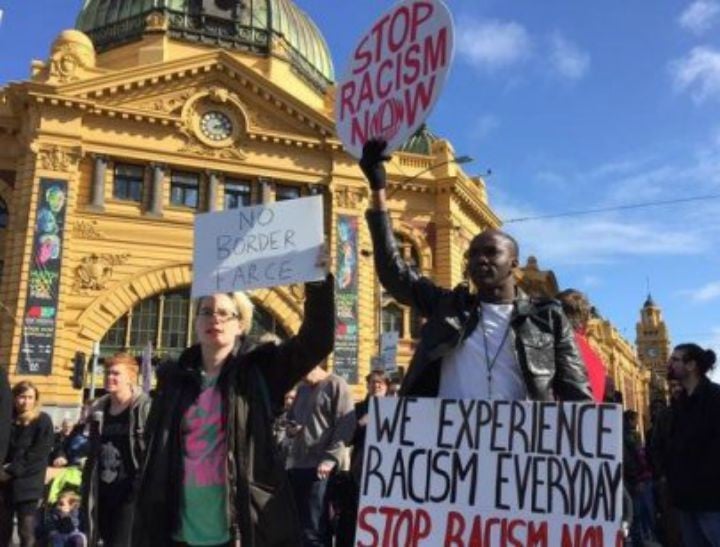 Fairfax has reported that whilst it was initially believed that the ABF would carry out random visa checks, it was later clarified that visas would be checked once people had been referred to the authorities.
The Abbott government, including immigration minister Peter Dutton, are under pressure to explain the controversy, with Opposition Immigration spokesman Richard Marles describing Mr Dutton as "gutless" for not facing the media.
"I think we need to hear from the Minister about how they actually plan in a serious way to deal with the question of visa fraud. This was just a joke." Marles said.
4. Pope Francis has written a letter supporting a gay children's book.
Pope Francis has become an unexpected supporter of children's book Piccolo Uovo (or 'Little Egg'), which was banned by Venice's mayor Luigi Brugnaro.
The book, which follows the adventure of an egg which discovers same-sex families, has banned from schools in addition to 50 other titles in June.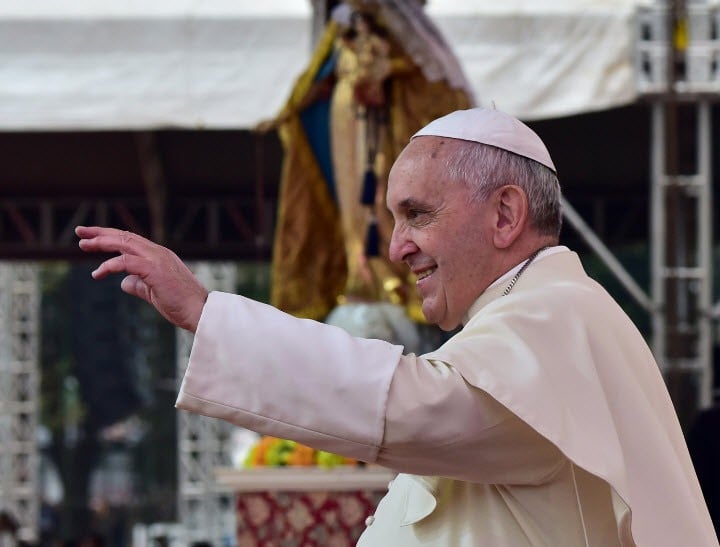 The Guardian reports that the decision was not well received by authors, with over 250 Italian authors demanding their books be removed from bookshelves across Venice to "protest against an appalling gesture of censorship and ignorance."
Singer Elton John was amongst those that criticised the mayor's decision as bigoted, saying that the move championed "a future society that's divisive and fosters ignorance".
Now Pope Francis has also come out to support the title, with a senior Vatican official praising the author's work in a letter.
"His holiness is grateful for the thoughtful gesture and for the feelings which it evoked, hoping for an always more fruitful activity in the service of young generations and the spread of genuine human and Christian values," wrote Peter B Wells.
5. The Chaser have revealed the controversial cover of their new magazine.
Never one to shy away from a controversial topic, The Chaser has revealed the draft first cover of their latest publication.
The cover references the crude tweet with the handle "AbbottlovesAnal" that featured on this week's episode of Q&A. The tweet was poorly received by politicians and commentators alike, leading the ABC to formally apologise to the prime minister.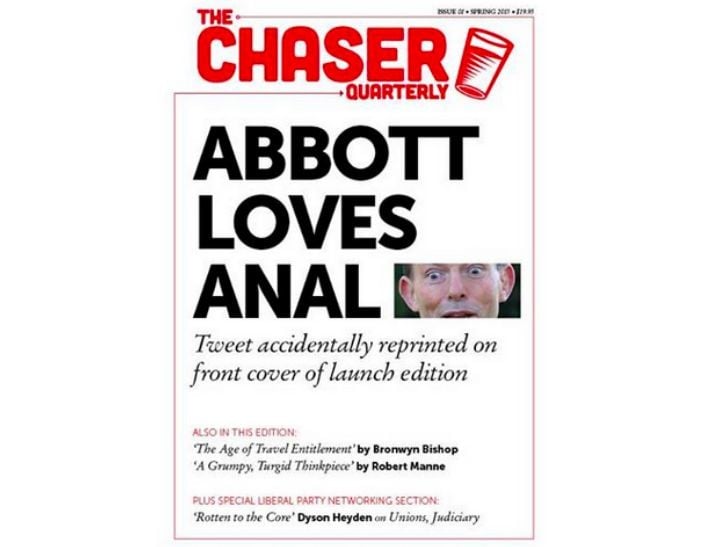 Making things all the more awkward, The Chaser's current show The Chaser's Media Circus is also broadcast on the ABC.
The team, which comprises of comedians Chas Licciardello, Julian Morrow, Andrew Hansen, Craig Reucassal and Chris Taylor are currently trying to crowd fund their new magazine The Chaser Quarterly. They aim to reach $50,000 to get the publication off the ground and have currently raised over $10, 000.