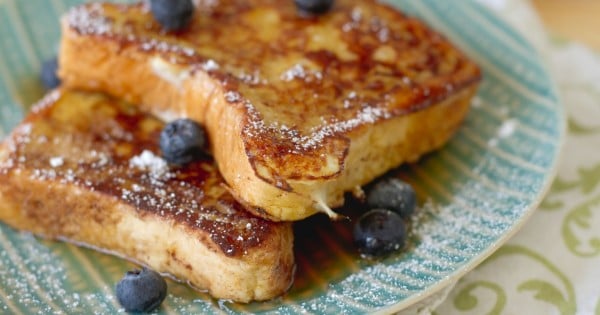 This is for all of the white bread lovers who are sick of hiding your true love. We're with you. Pretending to like bread with visible whole grains to seem 'healthy' and tolerating sourdough's rise to cafe-breakfast fame has caught up to us. There's nothing better than soft, melt-in-your-mouth and fluffy bread. Even more when you can get the taste and texture of white bread with the goodness of fibre and wholegrain in one of the new generation of better-for-you options.
We shouldn't have to apologize for loving the fact that we can't actually taste the fibre and protein in our morning toast because everyone knows it's all about that soft crunch. Let's not forget that white bread is incredibly versatile and delicious. So, here are some of our favourite ways to jazz up your sliced loaf, whether it's fresh from the shopping trolley or leftovers from the bread-basket. It's time to re-visit our childhoods.
Andi's French Toast.
Weekends have always been a special time in my house. My mum's love for a slow Sunday spent pouring over a good book, lazing about in a patch of sun, and indulging in the foods that are just that extra bit special have definitely been passed down to me. I am sure that our spirit animal is a cat.
The quintessential Sunday morning breakfast for me was always French toast - it just felt that little bit decadent - even though the recipe calls for some of the simplest ingredients. So when I have a slow weekend morning I make this to add that little bit of luxe to my life and remind myself that this is what weekends are all about.
Here's my updated version of French toast:
Ingredients:
3 rashers of middle cut bacon
2/3 cup of milk
3 eggs lightly beaten
1/4 cup caster sugar
Dash of mixed spice/cinnamon
60g unsalted butter
6 slices of Wonder Smooth Wholegrain bread
1 punnet of blueberries
Maple syrup to drizzle
Method:
1. Heat up frying pan, cook bacon 1-2 minutes each side.
2. Transfer to plate topped with paper towel. Cover to stay warm.
3. Mix the milk, egg, sugar and mixed spice or cinnamon in a bowl.
4. Melt half the butter in a frying pan over high heat until small bubbles begin to appear.
5. Dip 3 bread slices, 1 at a time, in the egg mixture. Cook for 2-3 minutes each side.
6. Transfer to plates. Repeat bread and egg mixture.
7. Top toast with blueberries, bacon and a drizzle of maple syrup to serve.