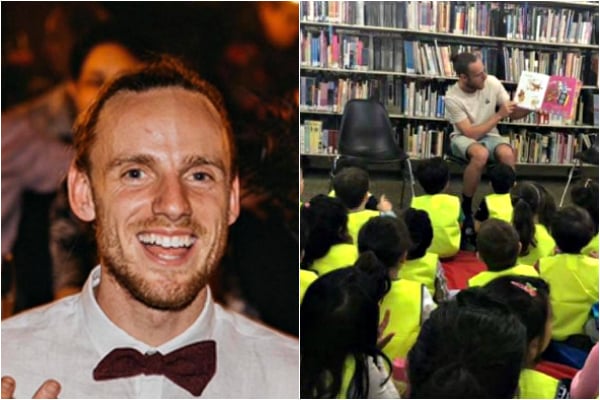 It's easy for other jobs to sound appealing when you're flicking through the careers section or hunting on an app. But what is it really like when you clock on? In this career series, Mamamia looks beyond the three-line job descriptions and explores the reality of working in some of Australia's most popular/bizarre/in-demand industries. From the paycheck to the politics and everything in between.
This week, early childhood educator Nick Stephens gives us a glimpse into an 'ordinary' day at a childcare centre.
What I do: Care for children from birth to five years old and help them to learn.
Why I do it: For two reasons. The first being that I love children; I feel most comfortable with them, as they're non judgemental, authentic and energetic. The second is that it's extremely meaningful work. It's proven that the first five years of a child's life are the most significant in their development.
Salary: As a Certificate III-qualified educator I earn $22.38 per hour. This certificate was acquired through studying and working full-time for one year on $8.65 per hour.
Contracted hours per week: 38 hours.
Actual hours per week: 43-45 hours.
What I wish I knew about my job before I started: Emotional exhaustion is as real as physical exhaustion. Also, Early Childhood workers are taken advantage of for their love of children. Employers often understand you have this empathy and will use it as leverage to gain what they want. I wish I knew that just because I chose the job because I love children, it doesn't mean that others did for the same reasons.
A typical day.
7:45am: Arrive at work at 7:45am for an 8:00am start. Set up activities in the preschool room. Walk in to toddlers' room and greet children and staff that have arrived. Continue to greet incoming families. Take note of parent messages e.g "Zoe has been unwell, Zach can't play in the sandpit today," etc. Separate emotional children from their mothers and fathers. Soothe upset children.
9:00am: Sit children down for a story, coordinate children's 'News' time. Behaviour-manage students who struggle with sitting down/have special needs. Keep the vibe of the classroom positive, compliment children doing the right thing.