The below story is one mother's experience. For individual health advice, please consult your doctor.
I was a new mum besotted with my baby boy. At the same time I was overwhelmed by how much my life was changing, and harrowed daily by the confidence I was lacking in my ability as a mum and the feeling that with every decision I could fail my son, who is now six years old.
We had a rocky first three months, in and out of hospital with infections and respiratory problems and I was beyond the point of physical exhaustion, emotionally fragile and mentally depleted.
There was an angry rash on his face that I had noticed and then stopped noticing. Babies get rashes all the time, so I was told.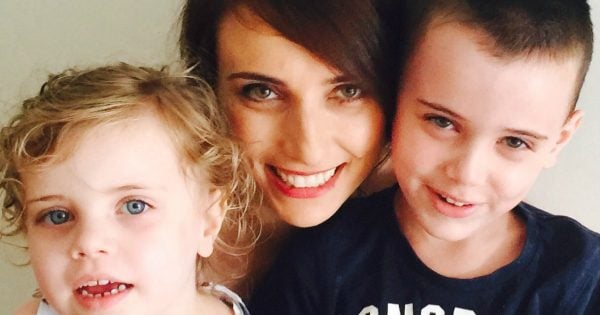 The rash was still staring back at me, but now angrier, and as if to spite me had started appearing on other parts of my baby's body. Behind his knees, on the underside of his wrists and on the inside of his elbows. 'It's eczema, use medicated cream and he'll grow out of it by his first birthday', so I was told.
But on his first birthday we were admitted to hospital with eczema covering over 75 per cent of his body. My baby boy was in pain, skin broken and bleeding, unable to sleep, barely able to open his eyes from the inflammation and crying constantly for help. What decision had I made that went so wrong and led to me failing my baby boy?
Adding to my guilt was that I was a health professional myself, a pharmacist with 10 years' experience, who should know better and be able to manage her son's chronic and severe skin condition. The guilt was piled on thick and I had a bucket load of tears to prove it.
Lying awake on my hospital pull-out parent chair I started researching eczema management and which natural ingredients have properties that could help to relieve my boy's pain.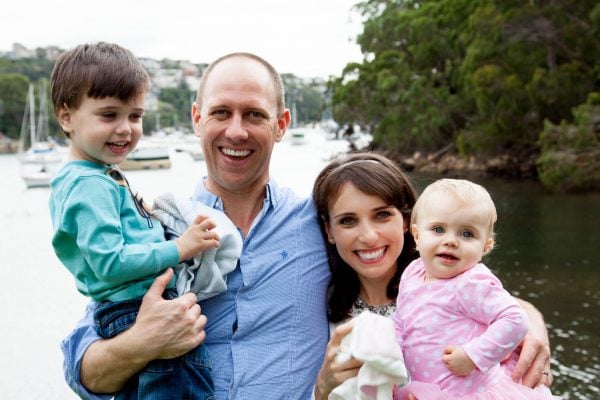 Sitting there in hospital and watching my baby boy finally able to sleep, I began ordering a range of ingredients to start working with when I got home. My guilt was now fuelling my determination to manage eczema effectively.
Within weeks my boy's eczema was well managed and we were finally able to be seen at the shops without stares and questions about his skin and at playgroup without interrogations about the possibility of other children catching this non-contagious skin condition.
I was bathing him every night in powders which I pulverised from natural ingredients in my Nutribullet and lathering him in thick moisturiser which I was whipping up in my KitchenAid. I was committed to this skincare routine which, with my pharmacist knowledge, I was able to develop. Life was finally more manageable.
A couple of years later, in a quiet moment I remembered reading in my research that eczema affects one in four Australian families. It was then that I knew I had to help other parents who were in my position.
Within three months, my company itchy baby co. was born. That was two years ago. While the skincare products might not work for every single person, we have so far helped more than 30,000 families manage their children's eczema and enjoy a better quality of life. And that can only be a good thing.
Listen: The parenting podcast that doesn't judge. Post continues after audio.

Julia shares her personal tips for managing eczema with itchy baby co.:
"Bathing daily with itchy baby co. natural bath soaks can give your child's skin the most amount of moisture to help relieve itchiness and dryness.
"Our bath soaks work by leaving a thin film on the skin, which acts as a barrier to stop moisture loss. They also have natural anti-inflammatory and anti-itch properties.
"Moisturise immediately after bathing with itchy baby co. natural moisturiser while the skin is still damp. Our moisturiser will melt into the skin and can help lock in the goodness from our itchy baby co. bath soak, as well as mixing with the skin's barrier to stop water loss and keep triggers out.
"The main ingredient in itchy baby co. products is colloidal oatmeal, sourced from Australian farmers. Colloidal oatmeal has been clinically shown to moisturise and relieve dry skin. Other ingredients include organic coconut, organic shea butter and organic beeswax."
Julia won the Gold Making A Difference award at the AusMumpreneur Awards in August. Her product is endorsed by the Eczema Association of Australasia.
We think you deserve to treat yourself. So Mamamia are giving you the opportunity to win one of three $100 gift vouchers by completing a survey for us.
Here at Mamamia we are always looking for ways to make Mamamia even better and more sparkly for you. By filling out this quick 15 min survey, you will help us do just that.