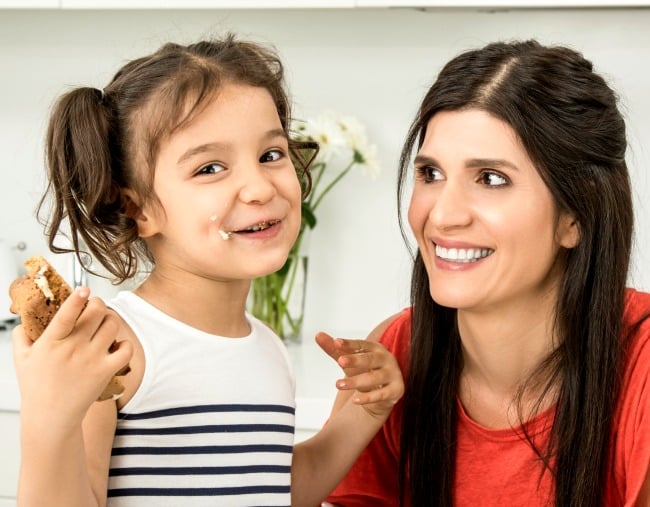 Do you ever feel that no matter how much you feed your child, they will always find room for a snack? Even when they've announced they were "full" an hour ago, after lunch?
As a nutritionist this is something that often comes up in my workshops as parents worry about why their child won't finish their meal, yet is "starving" only a short time later and rummaging through the pantry or fridge. Families fear that they have created a little "snack" monster and are confused about the cause and don't know how to break the cycle in a healthy, nutritious and stress-free way.
While there can be many different causes for continual snacking, such as not filling up properly at mealtimes and even consuming too much sugar, there are a few simple tips and strategies that I always encourage, to help put an end to the constant pleas for food.
For a healthy, delicious and adorable treat, Mandy Sacher from The Wholesome Child runs us through how to make bliss balls. They're surprisingly easy.
The sugar-hunger connection.
Sugar is hiding everywhere- often in foods considered "healthy". Soups, pasta sauces, yoghurt pouches, bagels and muesli bars can all contain significant amounts of sugar. Consuming too much sugar on a daily basis can throw your child's appetite out of whack and may result in frequent snacking. I go into depth about sugar in my book, Wholesome Child: A Complete Nutrition Guide and Cookbook.
Refined sugar is stripped of fibre, vitamins and minerals, offering no nutrient value and 'empty' calories – which can also reduce satiation after eating. When a little one eats an excess of sugar, it can cause an imbalance in blood sugar levels – sugar highs followed by sugar lows and the need for more sweet food. Simply reducing sugar from your child's diet can help to stabilise blood sugar levels and help a child to feel more satiated (meaning less snacking).
In order to identify if your child's eating too much sugar, it's important to understand how to read nutritional information and start to read the labels of your family's favourite staples. We expect to find sugar at a children's birthday party but it's often a surprise to find it hiding in a chicken marinade or vegetable soup. I go into depth in my book about how to read the nutritional panel, but put simply, try and choose products with less than five grams of added sugar per 100 grams.
Create structured mealtimes.
Establishing a structure around mealtimes will not only allow you to plan what your family will be eating, but it will also offer your child consistency. Use a weekly meal planner and get your children involved with planning their breakfasts, lunches and dinners (not to mention choosing some nutrient-dense snacks too).