Linkin Park has released an episode of Carpool Karaoke featuring the band that was filmed six days before frontman Chester Bennington's suicide in July.
The 23-minute episode, produced by Apple Music, features Bennington, bandmates Mike Shinoda and Joe Hahn, as well as Hangover actor Ken Jeong.
The video is dedicated to Bennington, and an introduction says that his family and bandmates have given their blessing for the episode, which was filmed on July 14 this year, to be released.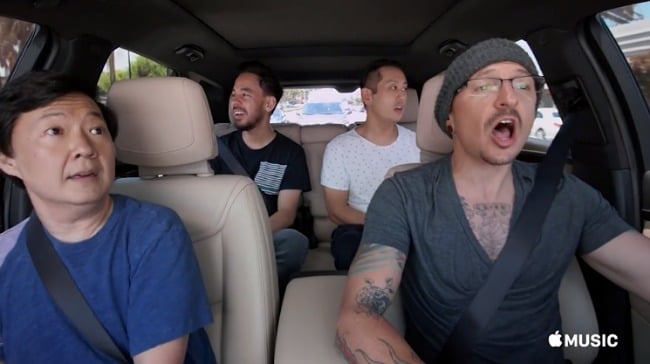 The late father-of-six sits in the driver's seat, next to actor Jeong as the car sing Outkast's Hey Ya, Linkin Park's Numb, In the End and Talking to Myself, Red Hot Chili Peppers' Under the Bridge, Lynyrd Skynyrd's Sweet Home Alabama and Aerosmith's I Don't Wanna Miss a Thing.
It's hilarious at times - like when Jeong goes a little crazy during the rendition of Numb and when he stops the car to lead the band in breakdancing - but between the laughs, we get a little glimpse into Bennington's personal life.
At one point he is asked about his kids and whether he would like to see them pursue music as a career.
"For me, I just want my kids to find something they're passionate about," he explains.
"One of my kids loves sports, great. My daughters they like music, they want to learn how to play instruments. Lily's really curious. She's like 'Daddy, how do you write songs? Where does the music come from?'. I just want them to find whatever it is."