Linkin Park has released an episode of Carpool Karaoke featuring the band that was filmed six days before frontman Chester Bennington's suicide in July.
The 23-minute episode, produced by Apple Music, features Bennington, bandmates Mike Shinoda and Joe Hahn, as well as Hangover actor Ken Jeong.
The video is dedicated to Bennington, and an introduction says that his family and bandmates have given their blessing for the episode, which was filmed on July 14 this year, to be released.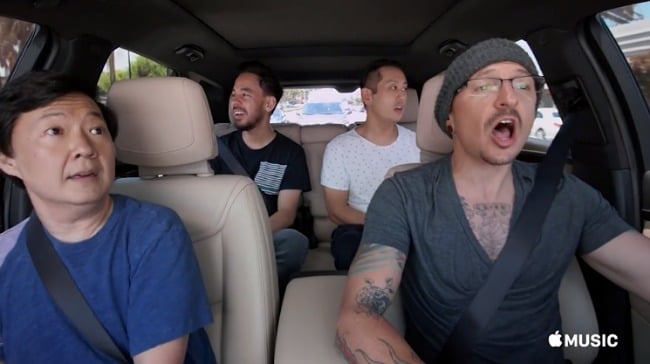 The late father-of-six sits in the driver's seat, next to actor Jeong as the car sing Outkast's Hey Ya, Linkin Park's Numb, In the End and Talking to Myself, Red Hot Chili Peppers' Under the Bridge, Lynyrd Skynyrd's Sweet Home Alabama and Aerosmith's I Don't Wanna Miss a Thing.
It's hilarious at times - like when Jeong goes a little crazy during the rendition of Numb and when he stops the car to lead the band in breakdancing - but between the laughs, we get a little glimpse into Bennington's personal life.
At one point he is asked about his kids and whether he would like to see them pursue music as a career.
"For me, I just want my kids to find something they're passionate about," he explains.
"One of my kids loves sports, great. My daughters they like music, they want to learn how to play instruments. Lily's really curious. She's like 'Daddy, how do you write songs? Where does the music come from?'. I just want them to find whatever it is."
The 41-year-old also shares with Jeong how his trademark scream came about - one-day jamming, at the request of Shinoda - and that he enjoys playing the computer game, Dungeons and Dragons.
Watching Bennington smiling, laughing, singing and talking about his family, it's difficult to compute that six days later, on July 20, he would end his life at his home in California.
Last month, his wife Talinda Bennington released a short home video of the singer taken less than two days before his death. In it, he is laughing while testing strange-flavoured jelly beans with his son.
"This is what depression looked like to us just 36 hours b4 his death. He loved us SO much & we loved him," she wrote while sharing the clip on Twitter.
This Carpool Karaoke episode also serves as a reminder that people with depression don't always look sad.
If you're a Linkin Park fan, we highly recommend watching this episode. And if you're not - watch it anyway.
You can watch the full episode by clicking here.
If you or anyone you care about is experiencing depression or suicidal thoughts you can call Lifeline on 13 11 14 for 24-hour crisis support.
Listen: Em Rusciano shares her story of depression with Mia Freedman.