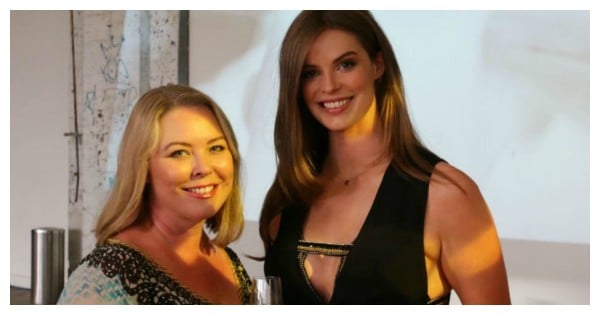 Earlier this week, musician, actress and model Rumer Willis took to Instagram to speak out about a case of blatant Photoshopping that had been applied to her face without consent.
"I find it really offensive for anyone to try and change the way you look so drastically. I love the way I look and I won't support anyone who would feel a need to change the way I look to make me beautiful," Willis wrote at the time.
If there's anyone who knows what it's like to have an unattainable standard of beauty held up to them, it's former model and agency director Chelsea Bonner.
As the daughter of an Australian actor and a model, Bonner has spent the better part of her life being physically sized up and slated by strangers. Despite years of insecurity and self-hate, Bonner eventually decided to make a change, opening one of the world's first plus size modelling agencies, Bella Management.
Here, Bonner writes to Willis about why continuing the fight is more important than ever.
Dear Rumer,
I want you to know that I truly feel you girl.
It's hard enough trying to keep up with the stringent and uniform idea of what is considered  beautiful without having to also be compared to famous parents.
For me, the constant comparison to my parents looks were so hurtful that I spent man years trying everything to fit into that unrealistic and scarily narrow ideal.
I abused diet pills and starved myself to no avail. I hid in the dark shadows, abusing alcohol and covering myself with a mask of baggy clothing and lots of makeup.
I spent years  trying to find my people, trying to find my place. But the comparisons continued whenever I popped my head out of my self-imposed seclusion.
Chelsea Bonner. Source: Facebook.
I'm not sure if people can really understand the depth of loss that is felt in a person's soul when it's constantly reinforced that you are not good enough, that you are not what they expected to see.
That it is somehow your fault that you didn't get the right mix of genetics in the womb and were born with the 'bad/ugly' genes.
That you're in some way a betrayer to your "beautiful" parents.
That because of that you are somehow deserving of mocking and glares from strangers.
That every time someone knowingly looks at you as if to say, "poor you," your entire body swells with an irrational humiliation that shouldn't even exist to begin with.