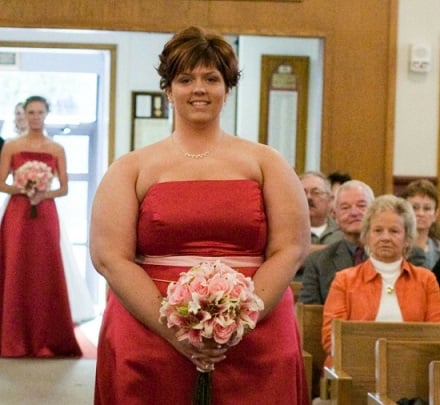 Your speedy update on all the day's big stories, Tuesday, May 6 2014
Weight-loss mag asks woman to cover up.
A woman who lost over 77 kilograms without surgery or dieting has slammed a fitness magazine for body-shaming her. Brooke Birmingham, the author of health blog 'Brooke: Not On A Diet' took over four years of eating and exercising well to drop the weight and was beside herself with excitement when Shape magazine told her they would feature her in a 'Success Stories' section. Brooke did a phone interview and sent a photo of herself in a bikini for the 'after' shot (left, and Brooke's pictured above before her weight loss). She received a reply from the editor of Shape telling her to put a shirt on if she wished to be in the magazine.  Brooke replied: "My body is real, not Photoshopped or hidden because I feel like I should be ashamed. This is a body after losing 172lbs (around 78 kilos), a body that has done amazing things, and looks AMAZING in a freaking bikini… This is the type of body they should have featured because it can give people hope."
Where do babies come from? Tomatoes?
The nutrient in tomatoes that makes them bright red also apparently increases fertility in men. A new study shows that lycopene in tomatoes could help increase men's sperm count by up to 70 per cent. The research comes from Britain's Infertility Network which is embarking on a one-year survey to test if a daily high-lycopene supplement results in more pregnancies. A spokeswoman for the network, Karen Veness, says that they are "really positive about these findings. They fit in with message we are trying to get out there, and we're very keen to do an observational study to see if we can help men." 

Kidnap victim: 'I forgive Ariel Castro'.
Michelle Knight, one of the victims of Ohio kidnapper Ariel Castro, has released a new book on the anniversary of her escape. Knight reveals Castro beat her until she miscarried five times during the almost 11 years that she was held captive. She told NBC's Dateline that she was terrified each time Ariel Castro raped her and beat her when he realised she was pregnant. "He wanted to break me...You can't break someone that's already been broken. You can only make them stronger." But despite everything she was put through, Knight told NBC's Today that she forgives Castro, who hung himself in prison just three weeks into his life sentence.  "If I did something wrong, even if it was a small thing, I would want somebody to forgive me," she said. "So I can forgive him for what he done wrong because that's the way of life."
Happy news for the Geldof clan, at last.
Only a few weeks since Peaches Geldof's tragic death, two of her family members have announced their engagements. Sir Bob Geldof proposed a few days ago to Jeanne Marine, his girlfriend of 18 years, with the couple's friend Jerry Hall, saying, "Bob has proposed, she is over the moon... Bob and Jeanne have been through hell, but they are determined something positive will come out of it." In the meantime, Peaches' older sister Fifi Trixibelle, 31, has also revealed that she's engaged to her boyfriend of one year Andrew Robertson. She shared a photo of her engagement ring (right) on Instagram captioned "boydonegood" and has reportedly made plans for the wedding in July of next year.
Packer's punch-up caught on video.
The front pages of News Limited papers were covered with photos of the James Packer and David Gyngell fist-fight this morning and now there's video footage of the pair's brawl. Since yesterday, it's been revealed that the fight occurred as the result of miscommunication about Channel Nine news truck which was parked outside Packer's Bondi home at the weekend. Packer believed it was staking him out to see if rumoured love interest Miranda Kerr turned up for a visit, but the truck actually belonged to a Nine cameraman who lives nearby. Since Packer's mate "Gynge" runs Channel Nine, the billionaire blamed him for the truck's presence. The images reportedly sold for $250,000 but the footage of the fight has got everyone talking today. If you listen closely you'll hear Gyngell yell "I didn't even know you were in f***ing Australia."
https://www.youtube.com/watch?v=yP2Wrog58E8