This is the inspirational story of how a face mask….saved my face.
Let me set the scene: it was a dark, wet, windy, rainy night…and I was as snug as a bug in a rug, huddled around my friend's backyard campfire, deep in the heart of Sydney's suburbia.
Yes, fine, it wasn't the outback. A brand new deck and porch may have also been involved. Wine, a roast dinner, and some warming port to finish. But it was as rural as it's been for a long time, for a city-slicker like me.
We sat around the 'camp fire' for about five hours – and I could smell every single one of those minutes in my hair and clothes, and on my skin, when I got in the car to go home that night.
And I could feel the soot on my face.
As I stripped off at home, ready to wash the camp fire smell off me, I thought it was good a time as any to try my new Alya Skin Australian Pink Clay Mask.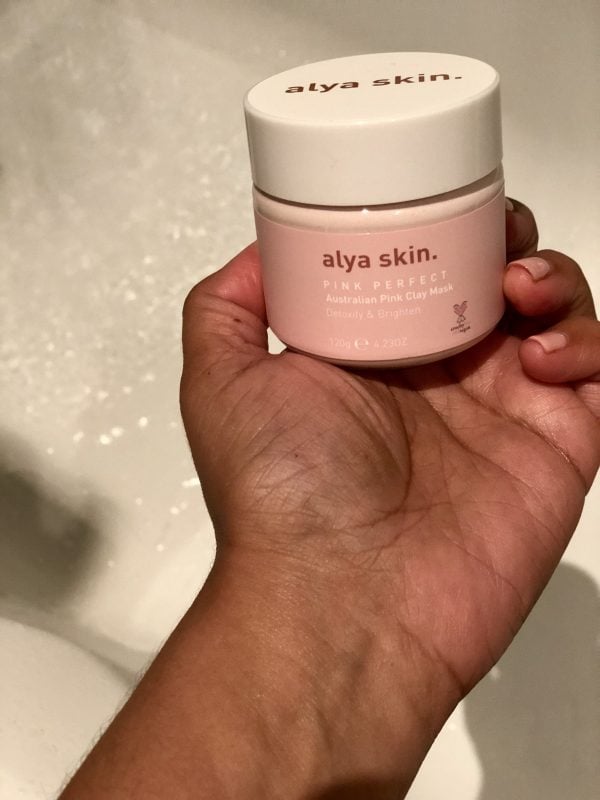 Removing my makeup with a wipe, it felt like sandpaper. As I ran the bath, I read the promise of the jar: rich in antioxidants, gently cleanses skin, brings balance and energy to dry and sensitive skin - yes, please.
Detoxifies skin from pollutants: put me down for that. Stimulates regeneration of skin cells, tightens your skin's pores, and extracts pollutants and nasties (like camp fire soot): excellent.
Assists in the removal of eczema, acne and pimples, because apparently, it's safe for sensitive skin: good, because mine is prone to eczema.
To top it all off, the box tells me the mask is vegan friendly, and animal cruelty free.
So I open the jar, slather on the clay that has the consistency and smell of part-bubble gum, part-fairyfloss, and prepare for my face to be fixed.
I immediately feel soothed, because I love masks. I also blatantly disobey the usual mask instructions of not applying it under your eyes, because I'm a rebel. It's a rule I've never understood - it's the place I need the most help! And in my defence, it doesn't say not to on this particular box.
In fact, the only instructions are to wash it off with a warm cloth after about ten minutes - which I also ignore - because I'm enjoying the sensation on my face too much.
I lay in the bath thinking it's so good to get back to civilisation after my 'rough' day (of relaxing by an open fire with friends, whilst eating and drinking).
After perhaps about fifteen minutes, I wet a washcloth and the mask comes off easily. My skin feels so soft, and doesn't feel dry, even as my face air-dries while I remain in the bath for 10 more minutes.
When I do eventually hop out, I apply my usual night serum - with no moisturiser, and and pleased by how fresh and smooth my skin feels.
I look in the mirror and see that I should have made more of an effort to remove my waterproof mascara, because the result is some significant panda eyes. But really, I'm too distracted by my facial rejuvenation to care!
The verdict? Looks, feels, and smells delicious. And because I'm a 'pink junkie' as you can see from my robe and nails, Alya Skin Australian Pink Clay Mask, currently on sale for $29.99, has been the perfect way to finish off my 'rough' day.
What's your favourite face mask? Tell us in the comments!