UK reality TV stars Charlotte Crosby and Stephen Bear have never made coin from keeping things private and being elusive about their lives. In fact, they've made their millions from doing the opposite.
And this week is no different, with Bear sharing an intimate note reportedly written by fellow TV star Charlotte Crosby.
The note compliments his "frog legs", "perfect penis"and "noodle hair" (because there's nothing more attractive than having a friend's hair resemble something you wouldn't mind having a nibble on). But before you jump the gun, it appears the duo aren't even dating.
Just this week, Crosby told The Sun that the duo "aren't dating" but "have the odd flirt".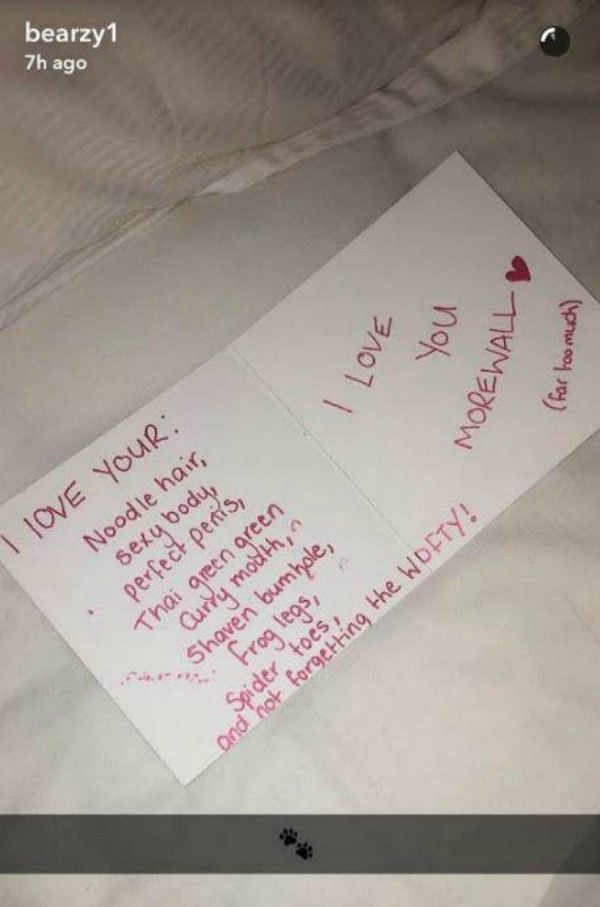 The note read: "I LOVE YOUR: Noodle hair, sexy body, perfect penis, Thai green curry mouth, shaven bumhole, frog legs, spider toes, and not forgetting the WDTFY!"
If you're in the dark as to what WDTFY stands for, I can't help you and Google won't either. And also, do spiders have toes?
Regardless, it's a note brimming with the most intimate of details of a couple who are reportedly not dating. And that's an interesting fact in itself for a realty star in Crosby whose relationships inevitably play out in the public eye.