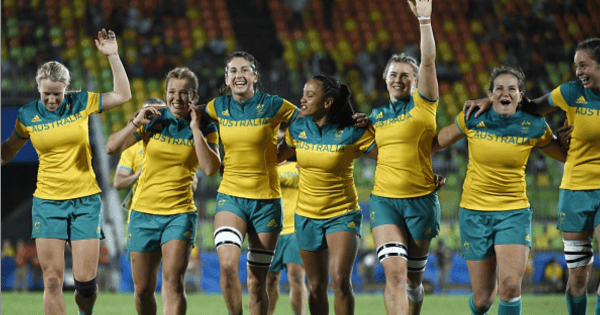 The Australian Women's Sevens team have made history at Rio, defeating New Zealand to become the first ever team to win a women's rugby gold medal.
Just a couple of months ago they became the first Aussie team – men's or women's – to win a world championship in the sport. 
Right before heading to Rio, unflappable Player of the Year nominee Charlotte Caslick wrote for Mamamia about how she reached the top of the world with her sevens sisters and why her boyfriend's now in the doghouse.
Here's what she had to say on winning with her best friends by her side.
If you're wondering what it feels to win a World Championship, I can tell you: it feels really good. Awesome, actually. And the fact I've done it with my best friends makes it even better.
We're a very laid back group of girls so even going into the World Series tournament we were pretty chilled about competing for a World Championship win. Even at the airport in Sydney before we flew to France, we were joking with our coach saying "it's not a big deal, who cares what happens". It meant he was the most stressed of all of us!
Of course, we all wanted to win, but our self-belief helps us manage the pressure and any doubts we have. Because we're so confident in each other, it's easier to be confident in ourselves.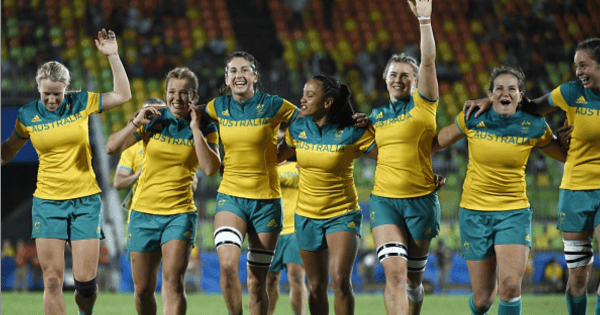 The Australian Women's Sevens team have made history at Rio. Source: Getty
It also helps that I grew up playing with these girls who are now my team mates. I've known Vani (Evania Pelite) since I was 12, and I played Aussie touch with Emilee (Cherry) when I was 16. All of us are really good friends off the field and I think that adds to our success on the field. There are always plenty of hugs and high-fives when we play together, and it shows that we enjoy each other's company.
These are come of the other female Aussie Olympians we've been keeping an eye on (post continues after gallery):