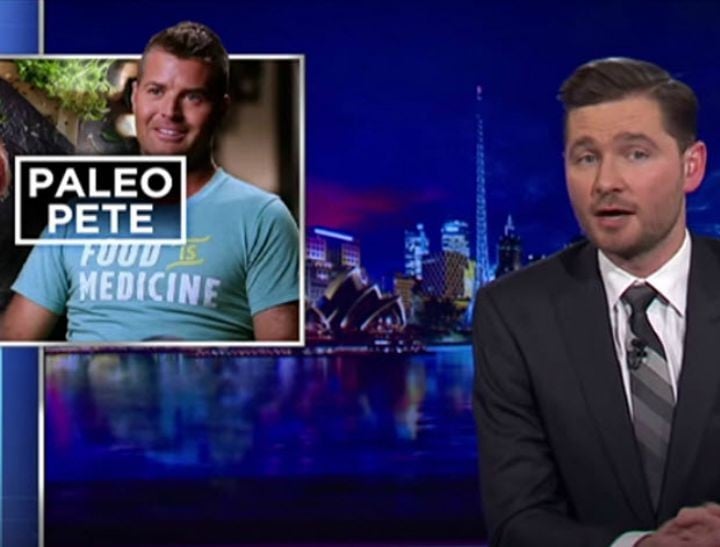 Victory never tasted so sweet.
Host of The Weekly Charlie Pickering has been tackling some of the big issues on his program recently; same-sex marriage, victim blaming, indigenous incarceration.
This week he took on a less serious topic, but one that is very close to our hearts here at Mamamia, when he gleefully took down the glorified snake oil merchants of the Paleo movement.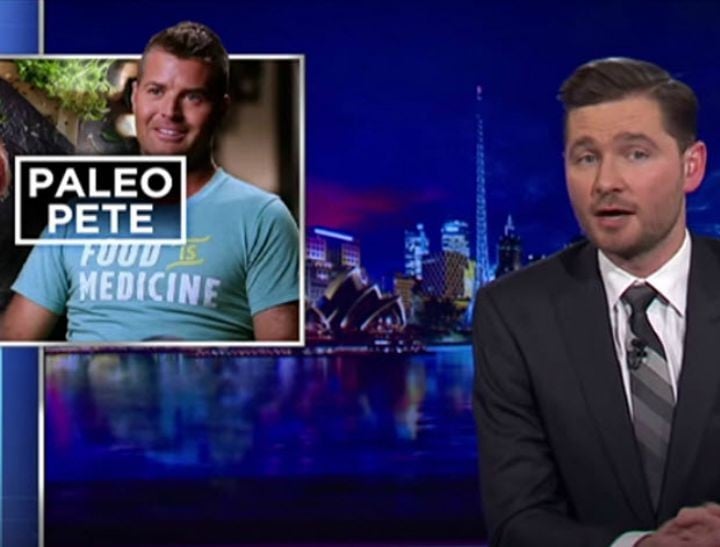 On Sunday night, Channel Seven and Nine both aired segments on the fad diet — which supposedly mimics the eating habits of our palaeolithic ancestors by doing away with processed foods and increasing the intake of meats, vegetables, nuts and seeds.
Veteran reporter Mike Willesee road tested the diet on Seven, guided by none other than "Paleo Pete" Evans himself.
Willesee — whose previous ice-cream and Coca Cola diet looked like something a young McCauley Culkin might have spruiked — had his health "independently" assessed before and after the challenge by Dr Ben Balzer the author of Paleo blog Ben Balzer's Paleolithic Diet Site.
"The diet promoted by a guy who writes books on Paleo is being assessed by a guy who writes a blog on paleo, on a network whose star is the face of Paleo and the only independent voice in this equation is Mike Willesee and he doesn't even know what a market is," Pickering says.
"Thankfully Paleo doesn't say anything about cutting down on conflicts of interest."
Watch the full rant here:
I wonder if the paleo diet can cure SIQ BURNS?
Want more like this? Try these:

'I went Paleo and now I hate everything.'

Explain to me: What is everyone's problem with MKR's Pete Evans?

'Now my dog can't even get a bone? That's it, Paleo. I'm DONE WITH YOU.'