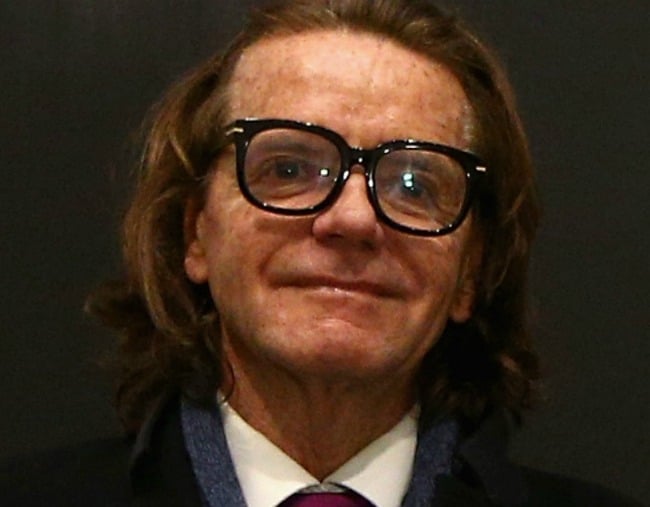 When 21-year-old Tina Huang, a third-year law student at the University of Sydney, saw a job advertisement seeking a junior paralegal, she was quick to apply.
The one-hour job interview was with Charles Waterstreet, a notoriously eccentric criminal barrister, and the inspiration behind the ABC television series Rake. 
What do we know for certain about Charles Waterstreet?
We know he has been painted by Jim Van Geet for the Archibald Prize, standing in his court robes, adorned with a barrister's wig and his signature glasses. He looks up – an air of 'you can't touch me' inherent in his gaze, with two naked women prostrating at his feet.
We know he is almost always described as "colourful". Whatever that means.
We know – because he told us – that while at college at the University of Sydney, he ran into the bedrooms of dozens of women, "flinging the bedclothes off and lifting their nightdresses up and plastering a wet one," on their bottoms.
We know that in a 2012 interview with Honi Soit he said, "I made a pledge with myself not to sleep with any students until the graduate course. Then I took them two at a time."
We know he thinks obtaining consent can be a bit of a "wet blanket".
We know he has written a number of books, including Precious Bodily Fluids: A Larrikin's Memoir, and is currently writing his third autobiography.
LISTEN: Allegations, allegations, allegations. Listen to Mia Freedman, Holly Wainwright and I discuss Kevin Spacey on the latest episode of Mamamia Out Loud. Post continues below. 
We know he very firmly claims he is behind the creation of Rake's protagonist Cleaver Greene; the womanising, witty and dishevelled barrister, with a sharp legal mind.
And we know that in the last week, three separate women, who have never met each other, accused him of sexual harassment.
Huang alleges in a sworn statement obtained by New Matilda that throughout the course of her interview, Waterstreet played a video on his phone of a man receiving a hand job, showed her images of naked women, talked openly about sex parties and remarked that he only hired "pretty young things" – women under the age of 25 – to work alongside him.
But, Huang reasoned; "He is famous and powerful and a cheeky, but genius man."
So she went back.
On her first day, Huang replied to emails about late payments for sex toys, and was required to organise Waterstreet's dates with other women. He confided in her that he was "upset because he had been overlooked for an invitation to a recent 'sex party'".