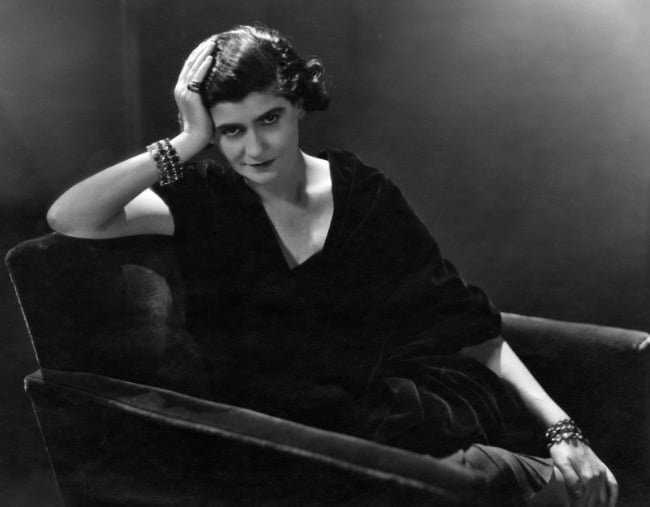 Almost every woman is familiar with the musky, heady scent of Chanel. No 5.
The iconic Chanel perfume first hit department store shelves in 1921 and since then it has been synonymous with opulence and wealth.
But the popular perfume has a dark history that most people don't know about.
You see, the perfume's creator was none other than Gabrielle "Coco" Chanel, an eccentric Parisian fashion designer who may have been a double agent during World War II.
By the beginning of the 1920s, Coco was well-known in French fashion circles and she had a bunch of successful boutiques Paris, Deauville and Biarritz.
According to Tilar Mazzeo, the author of The Secret of Chanel No.5, Coco's fashion career really began when she became the mistress of textile baron Etienne Balsan in 1909.
Not long after they began their affair, Coco set up a millinery boutique on the first floor of Balsan's apartment.
"She had really begun her career in what the French would call the demimonde, the kind of shadowy, half world of mistresses," Mazzeo wrote. "She was the second mistress of a very rich man. That was how she got her start."
Then in 1921, Coco made a decision which would define the rest of her life.
According to the BBC, she joined forces with celebrity perfumer Ernest Beaux to create perfume that would epitomise the "new, modern woman".
While testing a bunch of perfume prototypes Beaux had prepared for her, she was drawn to the vial labelled No.5, a new perfume which utilised powerful chemicals called aldehyde.
"It was what I was waiting for. A perfume like nothing else. A woman's perfume, with the scent of a woman," Coco later said.
To help her finance the new perfume, Coco partnered with two Jewish French brothers called Pierre and Paul Wertheimer. It was decided the brothers would be responsible for the production and marketing of the perfume and would therefore receive 70 per cent of the profits.
As The Times reported, Coco would receive 10 per cent and the owner of Galeries Lafayette, who promised to help with distribution, would receive the final 20 per cent cut.
The perfume proved to be an international success story, and people began to question why Coco was only receiving 10 per cent profit for a product that had her name on it.
Believing she deserved a bigger share of the profits, Coco tried to change the arrangement for 10 years with the help of her lawyer.
Then World War II began and the Wertheimers realised they had to quickly leave France. They transferred their businesses to a man named Felix Amiot, and fled to New York just days before the Nazis occupied Paris.
At the same time, Coco began to have an affair with a German intelligence officer named Hans Günther von Dincklage, who was 13 years her junior.
When the Parisian designer heard the Wertheimer brothers had begun to manufacture her perfume in the US, she sent out a press release saying their perfume had nothing in common with hers.
As the New Yorker reports, it was then that Coco tried to use Aryan laws to turn on her Jewish partners and deprive them of their rights and property.
Her German lover convinced Coco if she used her friendship with Winston Churchill in an espionage mission for the Nazi's, she would gain control over her company.
Coco believed him and attempted to meet with the British Prime Minister, but Churchill would not reply to her requests.
In the end, the Germans decided their relationship with Amiot, the man who bought the Wertheimer's businesses and who also manufactured military aircraft, was more important than their relationship with Coco.
After the war, Coco was summoned for questioning as a Nazi collaborator, but was released without punishment thanks to the intervention of Churchill.
The money she made from Chanel No.5 throughout her lifetime, made her one of the richest women in the world.