Ah, Chad, ol' buddy ol' pal.
I've come across many a douchecake in my time, but this bicep-curling, steak-munching numbskull has to be the most douchey of them all. Of course, we fans of The Bachelorette are no strangers to a meathead contestant with an alpha complex, but Chad – CHAD I TELL YOU – is the. Worst.
I know you're all already nodding your heads along in agreement, but just for the gags I'm gonna give 10 examples from episode two where Chad proved he's the Almighty Douche Lord from DoucheVille.
1. He showed us his true douche-tinted colours in the first 60 seconds.
"To a beautiful girl, to a beautiful life, fuck you guys I'm gonna make her my wife," are Chaddles ever-so-charming opening words for the ep, which pretty much set the scene for the next 80 minutes of lurve-drahma.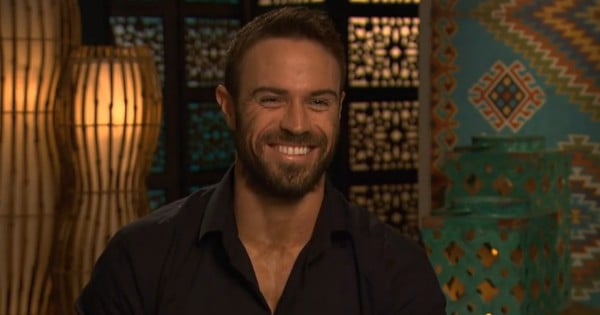 "I feel like none of these guys have dated a girl of Jojo's calibre before... they're not comfortable around beautiful women," he tells the camera. (P.S. I had no idea women came in calibres! This is totally new and amazing information!) "Honestly I feel like I could do better than all of them, in everything."
Repeat after me: Douche. Bag.
2. The car salesman analogy.
"In my days as an Auto Dealer" (surprise, surprise) "I'd always like for people to look at the worst cars before they'd come to look at MY good cars. By the time she gets to come on a date with me she'll see that I'm way better than all the other guys."
Euuuuuughhhhhhhhhhhhhhhhhhhh.
3. Aaaaaand then the protein shake analogy.
"If you were making a protein shake made of the group of dudes here and then, you know, blended it up, half of that protein shake would be... like... they'd have zero chance."