Ah, Chad, ol' buddy ol' pal.
I've come across many a douchecake in my time, but this bicep-curling, steak-munching numbskull has to be the most douchey of them all. Of course, we fans of The Bachelorette are no strangers to a meathead contestant with an alpha complex, but Chad – CHAD I TELL YOU – is the. Worst.
I know you're all already nodding your heads along in agreement, but just for the gags I'm gonna give 10 examples from episode two where Chad proved he's the Almighty Douche Lord from DoucheVille.
1. He showed us his true douche-tinted colours in the first 60 seconds.
"To a beautiful girl, to a beautiful life, fuck you guys I'm gonna make her my wife," are Chaddles ever-so-charming opening words for the ep, which pretty much set the scene for the next 80 minutes of lurve-drahma.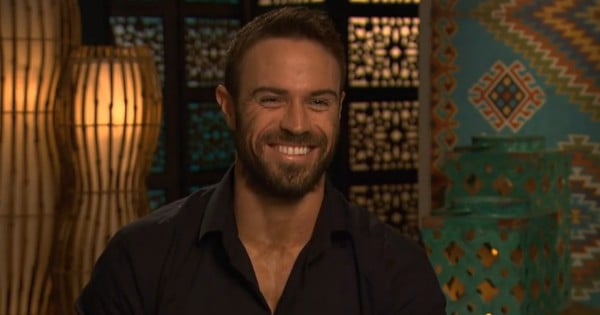 "I feel like none of these guys have dated a girl of Jojo's calibre before... they're not comfortable around beautiful women," he tells the camera. (P.S. I had no idea women came in calibres! This is totally new and amazing information!) "Honestly I feel like I could do better than all of them, in everything."
Repeat after me: Douche. Bag.
2. The car salesman analogy.
"In my days as an Auto Dealer" (surprise, surprise) "I'd always like for people to look at the worst cars before they'd come to look at MY good cars. By the time she gets to come on a date with me she'll see that I'm way better than all the other guys."
Euuuuuughhhhhhhhhhhhhhhhhhhh.
3. Aaaaaand then the protein shake analogy.
"If you were making a protein shake made of the group of dudes here and then, you know, blended it up, half of that protein shake would be... like... they'd have zero chance."
I'm sorry but... wot? THE MEAT AND PROTEIN HAS FLOODED YOUR BRAIN, CHADDLES.
4. The suitcase thing. The fricken suitcase thing.
Oh my goober. The suitcase thing. Just... no.
Don't get me wrong, Chaddles has a good body. Nay, he has a great body. But you know what makes people with good bodies even hotter? When they don't thrust their abs in our faces every two seconds with a freakin' suitcase belted to their waist WITH A CHAIN.
You are not Thor, Chad. You're not Wolverine either. You're just a dude who sent an application to be on TV and who only got chosen because producers love a slow motion car crash.
5. This quote.
"The best thing about Jordan? His brother. The worst thing about Jordan? He's not his brother."
As a person with two very attractive, very successful sisters, I just know that quote would've cut Jordan (whose brother is a far more successful football player than he is) DEEP. I'm with you in the eternal pain of being the lesser sibling, Jordan. I am so with you.
Chaddles, you suck.
6. He constantly pulls super judgey power poses. Like these.
7. He called JoJo "naggy". Ayup.
"You want me to tell you all the things I love about you?" Chad asked JoJo incredulously. "You're starting to get a little naggy here."
Firstly, JoJo is our Royal Highness, do not disrespect her with your peasant words Chaddles. Secondly, calling a woman "naggy" is the equivalent of calling her a dirty dishcloth. You just don't. She is perfection. If anyone is like a scummy Chux it is you, Chad. You are the worst.
8. He had a case of sour grapes when he didn't get the first rose.
After he wasn't picked to get JoJo's first rose, Chaddles simply could not understand why he didn't win. So, naturally, he chucked a complete and total hissy fit and went "for a walk".
I KNOW THIS IS SO WHITE GIRL TO SAY - BUT I LITERALLY CAN'T EVEN WITH THIS DUDE.
9. He's the only contestant I've ever seen to carry a smorgas board of meat around the rose ceremony.
10. He refers to the other dudes in the house as "Care Bears".
Okay, from a person who once had many a Care Bear, I can assure Chaddles that Care Bears DO NOT look like this:
(If they did look like that, I'd have a rather impressive collection by now.)
There's your 10 examples folks. I rest my case.