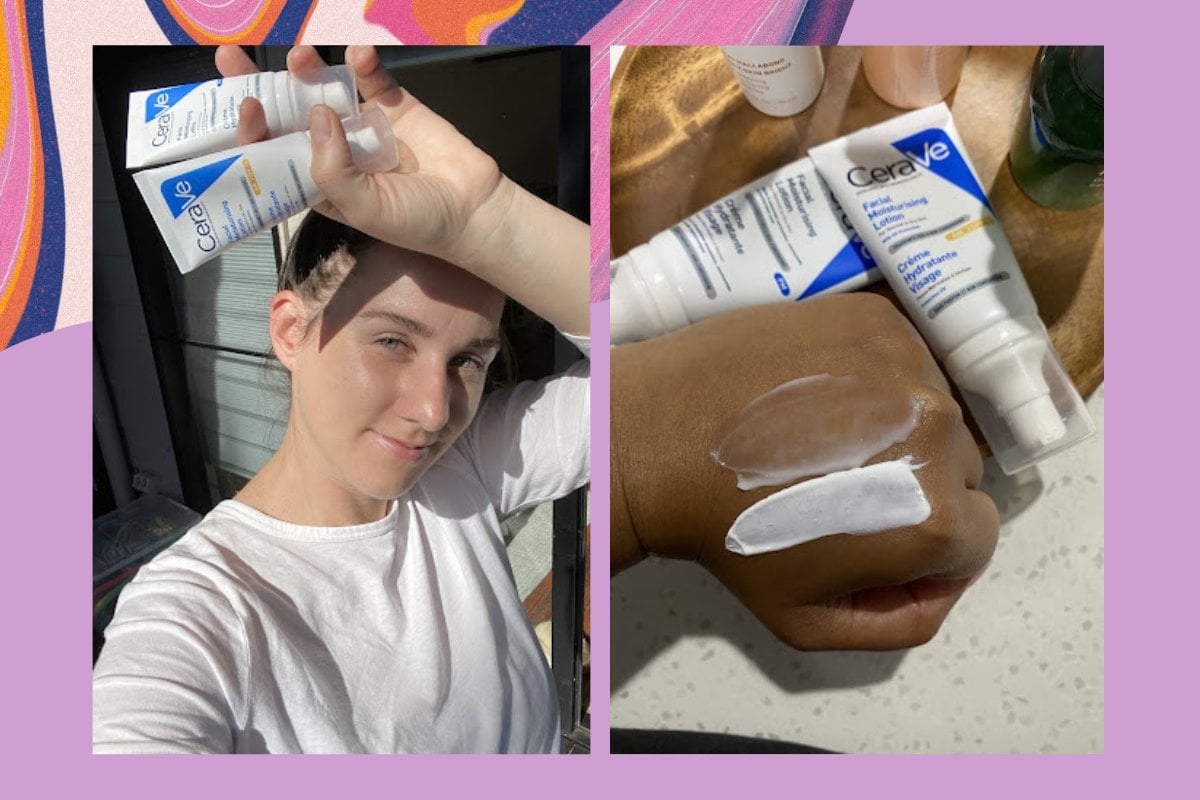 Dry, flaky, sensitive skin. We've all been there.
Whether it's in reaction to a harsh weather change, going a bit too hard on the retinol, or just the way your skin is behaving (or rudely, how it's not), a compromised skin barrier is never a fun time. 
The rise of skinimalism has seen people paring back their skincare routines to focus on using smarter products that can multi-task (we LOVE an overachiever), because who really has time for a 12-step skincare routine… two times a day… Every. Single. Day? 
So basically, many of us are demanding more from our skincare. We want products with science-backed ingredients that are simple to use, yet highly effective, all without breaking the bank.
Well, hello, CeraVe.
CeraVe products are all enriched with 3 essential ceramides (that is, the natural lipids found within the skin). In CeraVe skincare, they moisturise and help strengthen the skin's barrier with 24 hour hydration. The result? The dynamic trio to help comfort dry and dehydrated skin, to keep your complexion soft, glowing and healthy-looking. 
What skin-loving ingredients do CeraVe products actually use?
Ceramides: These are important as they keep moisture from escaping from the skin and protect it from external aggressors. CeraVe's unique combination of three skin identical ceramides helps to support the skin's existing ceramides, thereby reducing moisture loss and comforting dry skin.
Hyaluronic Acid: This assists in trapping and retaining moisture and hydration in the skin.
Niacinamide: This antioxidant that helps improve the appearance of the skin.
MVE Technology: CeraVe's patented technology that slowly releases their 3 essential ceramides and other key ingredients into the skin, over 24 hours. Hello, hydrated skin.
Navigating the world of skincare can be confusing and exxy, so we always love to put beauty products to the test thanks to Mamamia's You Beauty Panel: a collective of women across Australia, ready to put their faces on the line for our beauty investigations. 
Luckily, we had 100 Panellists trial CeraVe's AM Facial Moisturising Lotion with SPF 15 (for much-needed nourishment throughout the day), and their PM Facial Moisturising Lotion (to assist in retaining moisture for 24 hour hydration), and see if they performed as promised. 93 per cent agreed their skin felt hydrated and 88 per cent would recommend these products to others!
Here's what some of the You Beauty Panel reported back.
Vicki, 26: "I felt an improvement in the texture and tone of my skin overnight."
"I felt an improvement in the texture and tone of my skin overnight." Image: Supplied