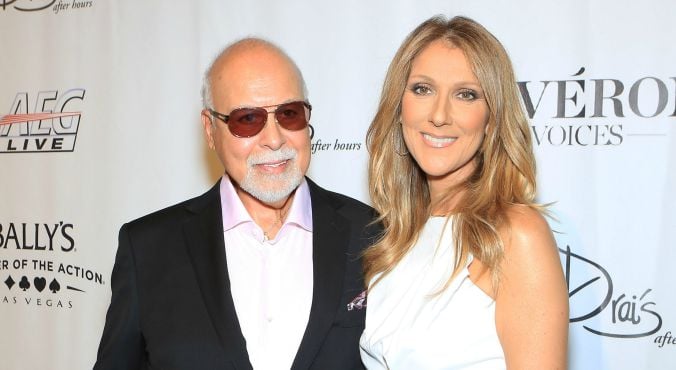 Image via Getty.
After taking a year's hiatus from her Las Vegas residency to care for her dying husband as he battles throat cancer, Celine Dion finally returned to the stage last month with a tribute to René Angelil, and says he's the reason she decided to come back at all.
"I didn't want to be here at first, I don't need it. Don't get me wrong, I love singing for people, but I have priorities," she told Entertainment Tonight.
"Since we don't know what the future holds so much, René wanted be to come back strong, sharing what I love. We have the same passions in life and we love each other so much. He's been there for me all my life and I've been there for him and we are still together in this."
The singer dedicated the song The First Time I Ever Saw Your Face to 73-year-old Angelil, who unable to speak or attend the concert, was watching via live stream at the couple's home in Nevada.
"If you haven't already gathered, tonight's show is very personal to me. But what the heck – by now you know everything about me. Speaking of family… every proud mother loves to show off and I think I found the perfect song to do so," the 47-year-old singer told the audience before the emotional performance.
On the big screen, Dion and Angelil's personal family videos of their three children René Charles, 14, and twins Eddy and Nelson, four, played in the background.
The singer has been outspoken about how hard the past year has been, with doctors unsure of how long Angelil has left to live.
"He's a great source of inspiration, he's fighting really hard. It's not an easy journey, the last year's been pretty tough – he's working hard," she told USA Today, thanking the fans for all their prayers, emails and letters of support.
"When you see someone who is fighting so hard, it has a big impact on you. You have two choices – you look at your husband that's very sick and you can't help because it kills you, or you look at your husband that is very sick and you look at him and you say 'I got you'," she said.
"You have your shaken knees at the end when it's over, but when someone falls and needs help, it's not the time to cry. You help and then when they're gone, then you can go in your room and cry." (Post continues after gallery.)