Celeste Barber has over 2.5 million followers on Instagram.
Ashton Kutcher, Cindy Crawford and Marion Cotillard are all big fans of the comedian and writer, and she recently won a WhoHaha award for the Funniest Lady on Instagram.
But long before she became an "overnight" sensation on Instagram, Barber was working as an actor, writer and stand-up comedian, and you've definitely seen her on your TV screens before.
One of her first acting gigs was playing the character Bree Matthews on the long-running Australian drama All Saints.
"I'm not a clown," Barber told Stellar. "It annoys me to be described as a mum of four from the [New South Wales] Central Coast who's struck overnight success. I've trained as an actor, I've worked in TV for years, done stand-up. I'm a writer. I have a bit of a bee in my bonnet about people thinking this is just my hobby."
Barber had a recurring role on the show from 2005 to 2009 and during that time she struck up a great friendship with the late Mark Priestley, who died by suicide in 2008 after suffering from depression.
Celeste talks All Saints, Instagram and being "brave" on No Filter. (Post continues below.)

As Barber told Mamamia's No Filter podcast, it was Priestley who encouraged her to pursue a comedic career by helping her recognise her ability.
"That was a massive moment for me to go, yeah, it is boring to ask for other people to validate if I'm funny, or if what I'm doing is OK.
"He was like, 'You know it is, so don't f**king worry about anyone else. Keep going. Go, go.' And now I do," she said.
"It was nice, and it's all thanks to stupid Mark."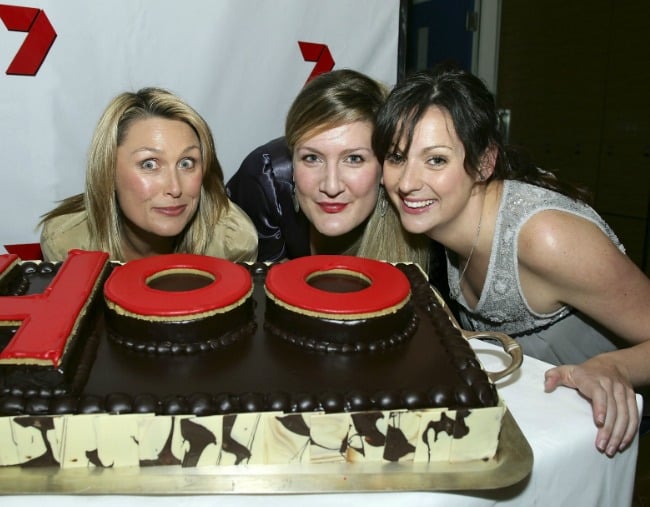 In October Barber starred in The Letdown, an ABC/Netflix comedy about a struggling new mum and the mother's group she thinks she doesn't need.
Barber is currently preparing for a US tour of her stand-up show, while working on another TV show and finalising a book.