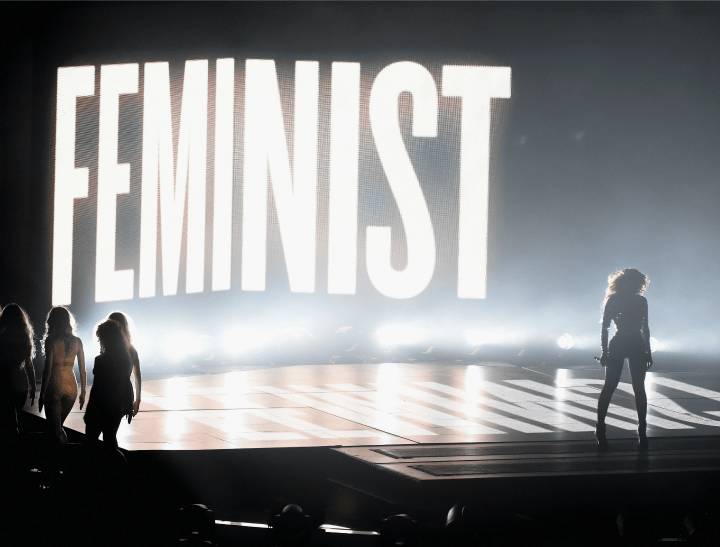 By Susan Hopkins, University of Southern Queensland.
When pop star Taylor Swift recently won album of the year at the Grammys she was applauded for delivering a "message of empowerment" to young women. In her acceptance speech, which even Ms magazine reposted on Facebook, Swift took to task critics who had dismissed her as managed and manufactured. She was responsible for her own success, she asserted.
Over the past year Taylor Swift has been very busy building her US$200 million fortune while reinventing herself as a celebrity feminist icon, delivering watered down political statements in her ubiquitous magazine interviews and social media postings.
Swift has joined that other female pop icon of the moment, Beyonce, in flashing the feminist label to round out her carefully constructed mediated personality and online presence. Most famously, Beyonce struts onstage in her concerts as a kind of warrior goddess while the word "feminist" lights up in colossal letters behind her.
Beyonce struts her stuff.
You go, girl?
In her lyrics and concert performances, Beyonce instructs "girls" to "run the world". But on the next track she is commanding her audience to "bow down bitches", invoking the kind of unrepentant misogyny that made rap infamous decades ago.
Beyonce is also not above the self-aggrandising hyper-materialism of mainstream rap culture, giving it a new "feminist" twist. She has tied rap culture to traditional femininity too, frequently boasting she is both an independent woman and the "Mrs Carter" part of a pop power couple.
Appearing on stage in crown and jewels, "Queen B" – as she is known – presents a kind of pop culture personification of the ideal neoliberal woman who has it all – career, man, marriage and money.