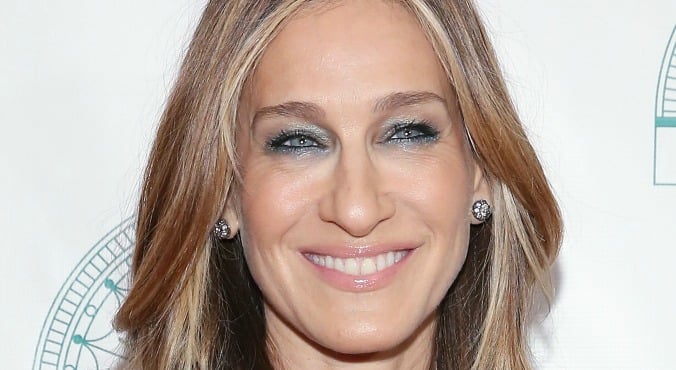 Image: Getty.
Feeling like a hair change but can't quite decide between brown and blonde? The latest winter hair trend could just be the perfect compromise.
Dubbed "bronde", it's quickly become a favourite among celebrities, donning the heads of everyone from Sarah Jessica Parker to Taylor Swift and Beyonce to Elle Macpherson.
Related: "I haven't washed my hair with shampoo in six years."
Taking the popular tones of ombre or balayage, bronde incorporates the balance of brunette and blonde all over the head. (Post continues after gallery.)
Celebrities with bronde hair.
The effect is natural looking "sun-drenched" hair that suggests you spend all your spare time doing fun things outdoors in the sunshine… even if the truth is the exact opposite.
Because the whole point of the colour is to sit right in the middle of the blonde/brunette spectrum, it's extremely versatile.
RELATED: Meet the biggest hairstyle of the season that takes less than 60 seconds to master
It's perfect if you stuck between committing to one colour, great for those wanting a way to grow out their balayage or a sophisticated option for people wanting a current and easy hair change.
It's also made for anyone who dreads the thought of committing to six week-ly trips to the hairdresser and the ideal colour for lived-in hair – a subtle and long-lasting alternative to traditional highlights.
Rather than balayage or tortoiseshell where the two colours tend to run into each other, for bronde hair the strands of blonde and brunette hair actually mingle together.
Related: Sorry to break it from you but you're washing your hair all wrong.
Added highlights are typically in two or more colours, and only slightly different to the starting colour which is what creates the coveted "natural" effect. (Post continues after gallery.)
Some of our favourite celebs with tortoiseshell hair
According to Schwarzkopf, brunettes can achieve the look by adding slightly lighter strands of hair, while blondes will get the sun-drenched look by colouring strands of their hair darker.
Exactly how dark will depend on the shade of blonde you are.
Golden blonde and light cappucino brown tones are generally universally flattering and good starting points.
RELATED: The half-bun is the easiest hairstyle to master this season.
And the good news doesn't stop there.