In April of this year, 22-year-old Cassandra Sainsbury was arrested at Boogota's El Dorado international airport, with 5.8 kilograms of cocaine in her suitcase.
Last night, Sainsbury spoke for the first time to the Nine Network's 60 Minutes program, and said she knowingly trafficked drugs.
Sainsbury told reporter Liam Bartlett she accepted a job as an international courier. Her understanding was that she was being paid $10,000 to transport documents. When she arrived in Colombia, it became clear that wasn't the case.
According to Sainsbury, she did not want to go through with the job once she found out what it entailed.
A man named Angelo, who had orchestrated the illicit trade, allegedly threatened Cassie, presenting her with surveillance pictures of her mother, sister and fiance back in Adelaide.
Angelo, Sainsbury says, threatened to kill her loved ones if she did not transport the drugs.
There's evidence, she insists. It's sitting in Whatsapp on her phone, a messaging app ideal for international communication.
But there's just one problem.
She's forgotten her pattern password.
POST CONTINUES BELOW: Mia Freedman, Monique Bowley and I discuss Cassandra Sainsbury on Mamamia Out Loud.
Indeed – the only thing standing between Sainsbury and a minimum 21 years and four months in prison, is a pattern.
Bartlett wasn't entirely convinced. It's rather convenient, he said, and he's never known a millennial to simply forget a phone password before.
But Sainsbury insisted, with a somewhat apathetic shrug of the shoulders, "It's very true. I haven't used it for nearly six months, I'm not going to remember a pattern."
And perhaps she's telling the truth.
So I decided to do some investigative work.
I am not particularly tech-savvy – but there's one thing I am particularly good at: Googling.
First, I typed in 'accessing Whatsapp account lost my phone', which presented a number of results. There were instructions, but I must admit they were very confusing. "Maybe Cassie's right," I wondered. "Maybe there is no way at all to retrieve material from Whatsapp if you can't access your phone."
But Sainsbury hasn't lost her phone. She's just forgotten her password. So I decided to try a different avenue.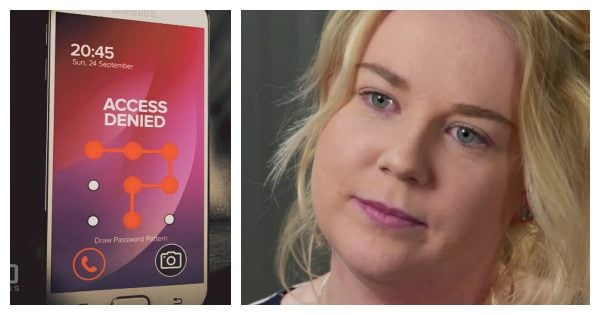 I googled 'mobile repairs' and called the first business that came up.
"Hi, I've forgotten my password for my phone," I said. "Can you guys help me?"
Yep. They could.
"It'll cost you maximum $120," they told me. And they can do it today.
He also told me his friend Troy specialised in unlocking phones. That was his job.
I wrote down Troy's details in case Sainsbury needs them.
But Cassie's not in Sydney, I rationalised. She can't just call my mate Troy from up the road.
So, I went to YouTube.
I can't find in any of the documents what model phone Sainsbury has, although I assume it was an Android given it had a pattern password. I typed in 'forgotten password android'. Here's what I got: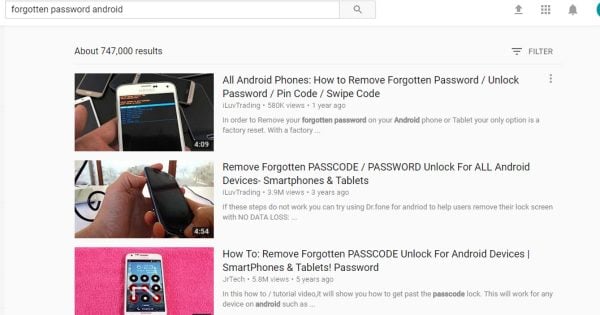 The first result outlines - as clearly as possible - how to access your phone if you don't have the password. It had more than 400 comments, almost all of them saying, "thank you so much".
I tried the same search for iPhones, and got similar results. The first video had been viewed almost four million times, and seemed to work for just about everyone.
Simply, for Androids and iPhones, you reset the phone.
BUT.
If you reset a phone don't you lose the data? In which case, her Whatsapp messages would be wiped clean?
Not if you back it up. Which, you guessed it, doesn't require a passcode.
I then found specific videos, one titled, 'How To Reset iPhone Passcode Without Losing Data', and another, 'How to Unlock Android Pattern or Pin Lock without losing data', and both were extremely straightforward.
If I'm correct and  Sainsbury does have an Android, all you need to do is visit the Google Account Recovery Portal. It will ask you a bunch of questions, verifying that you are who you say you are, you can then easily access your device - with all your data safely preserved.
If Sainsbury has legitimately forgotten her password, then problem solved.
I'll even shout her the $120. It's a small price to pay to avoid a minimum 21 years and four months in a Colombian prison.
You can listen to the latest episode of Mamamia Out Loud, here.
The award-winning podcast Mamamia Out Loud is doing their first live show. There will be laughs, disagreements and you can meet the hosts afterwards! We're also donating $5 of every ticket price to Share The Dignity so grab your friends and come along to share the love and laughs, get your tickets here.