Award tradition dictates that the previous winner of the Golden Globes Best Actor in a Drama presents to the current year's female winner and vice versa.
Not this year.
That would have meant Casey Affleck, who won last year for his role in Manchester By The Sea, would be presenting the award to winner Frances McDormand.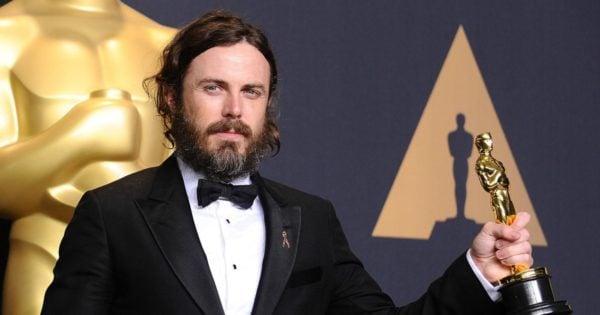 But the tradition was changed and Affleck was silently replaced for one very important reason.
This year's Golden Globes - and undoubtedly all the award shows this year - has been dominated by talk of #MeToo and the Time's Up movement following the downfall of Harvey Weinstein, who was exposed by a group of brave women as a sexual harasser and rapist.
Since then, countless women have come forward naming other men in the public eye who have sexually assaulted or harassed them. With more reputations falling faster than dominoes, the "awakening" as it's been dubbed, has brought the women (and men) of Hollywood together to enact change and call for justice and equality for women in all industries all over the world.
Listen: Tracey Spicer joins Holly Wainwright and Rachel Corbett on Mamamia Out Loud to discuss the year that was #MeToo on Mamamia Out Loud. Post continues after audio.
One of the names of the men previously called out? Casey Affleck.
The actor and brother of Ben Affleck has been involved in two sexual misconduct and harrassment lawsuits, by two female colleagues who he worked with in 2010 film I'm Still Here.
Cinematographer Magdalena Gorka and producer Amanda White both alleged Affleck verbally and sexually harassed them multiple times. He denied any wrongdoing and settled both claims outside of court, with details remaining a secret.
This history led to a particularly uncomfortable moment at the Golden Globes last year, with 2016 winner Brie Larson, who won the award playing a sexual assault survivor and brought real sexual assault victims with her, was tasked with presenting the award to Affleck.
It is for these reasons that many have theorised Affleck was silently replaced, his personal history no longer acceptable in the context of a post-Weinstein Hollywood.
There was no formal announcement and his name was missing from the official list of presenters for the night.
casey affleck was supposed to present the best actress award at the #GoldenGlobes tonight but was replaced with with thelma & louise because of the sexual assault claims against him... 2018 started right

— gabi (@harleivy) January 8, 2018
Instead last year's winner Isabelle Huppert and nominee Angelina Jolie presented the Best Actress award to Frances McDorman for Three Billboards Outside Ebbing, Missouri who played Mildred Hayes, a mother who seeks her own justice after her daughter is raped and murdered.
"Well I have a few things to say. Tequilas on me for all the ladies in this category. So many of you know I keep politics private but I am so proud to have been in this room tonight to witness a tectonic shift," she said.
"The women in this room tonight are not here for the food... We are here for the work, thank you."
Geena Davis and Susan Sarandon aka Thelma and Louise reunited to present Gary Oldman with the award for Best Actor.
With much focus on how we can enact change rather than just talk about the problem, this is at least a step in the right direction.