Award tradition dictates that the previous winner of the Golden Globes Best Actor in a Drama presents to the current year's female winner and vice versa.
Not this year.
That would have meant Casey Affleck, who won last year for his role in Manchester By The Sea, would be presenting the award to winner Frances McDormand.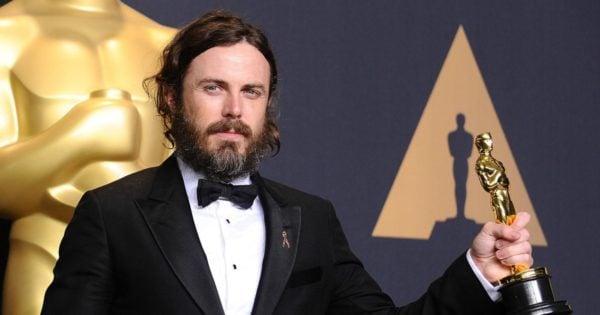 But the tradition was changed and Affleck was silently replaced for one very important reason.
This year's Golden Globes - and undoubtedly all the award shows this year - has been dominated by talk of #MeToo and the Time's Up movement following the downfall of Harvey Weinstein, who was exposed by a group of brave women as a sexual harasser and rapist.
Since then, countless women have come forward naming other men in the public eye who have sexually assaulted or harassed them. With more reputations falling faster than dominoes, the "awakening" as it's been dubbed, has brought the women (and men) of Hollywood together to enact change and call for justice and equality for women in all industries all over the world.
Listen: Tracey Spicer joins Holly Wainwright and Rachel Corbett on Mamamia Out Loud to discuss the year that was #MeToo on Mamamia Out Loud. Post continues after audio.
One of the names of the men previously called out? Casey Affleck.
The actor and brother of Ben Affleck has been involved in two sexual misconduct and harrassment lawsuits, by two female colleagues who he worked with in 2010 film I'm Still Here.
Cinematographer Magdalena Gorka and producer Amanda White both alleged Affleck verbally and sexually harassed them multiple times. He denied any wrongdoing and settled both claims outside of court, with details remaining a secret.