The Project viewers drew a collective gasp when Carrie Bickmore was beamed into their living rooms on Monday night sporting newly-dyed brown hair.
The show co-host was immediately flooded with compliments for her new look because with so much bad news in the world, it's delightful to have something as simple as hair to lighten the mood of a nation still not sure how it feels about how many medals we won at the Olympics.
It even came up in conversation on Gogglebox last night.
It's no secret that Bickmore, 35, made the change with beauty company Garnier. As their brand ambassador, she posted on Instagram on Monday morning that she'd "been up to something exciting… over the weekend for Garnier."
The change is part of a new Garnier campaign promoting its at-home hair colour kits, and Bickmore is the face of it.
But a few cynics wanted to know whether Bickmore did in fact use a packet dye herself, claiming the change from blonde to brunette seemed extreme.
Keen for details, Mamamia dispersed an investigative unit to unearth the facts. We reached out to Garnier and Carrie's people (and Carrie herself) and we have details.
Yes, it was out of a box (the product used to colour her hair, not her actual hair which is out of her head). Yes, it's her real hair (not one of those hokey wigs the Kardashians are always wearing). And yes, it was an actual Garnier product called Garnier Nutrisse Crème 6  in Acorn. Here's what the box looks like: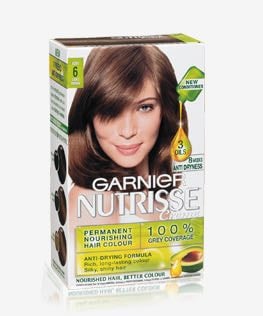 Garnier spokeswoman Debbie Watson confirmed to Mamamia Garnier products were used and that Carrie had a team of colour experts to take her from blonde to brunette on Saturday morning -- the same day the TV ad campaign was shot.
"Due to the nature of the campaign and the desire to have an exciting, big reveal (like on The Project Monday night) ... they had to do it quickly," Watson said.
She said the transformation was a step-by-step process that involved a colour correction. She said, as some readers pointed out, blonde hair went a green-ish colour if you put brown dye straight on top.
Blonde hair needed to be filled with copper pigment before adding the brunette layer, Watson said.
So anyone looking to try this at home themselves is advised to go gradually - not all in one day like Bickmore did.
Garnier has Nutrisse Colour experts who can be reached on 1300 651 743.