Tonight, we Project fans were treated to something extra special: A #ThrowbackThursday of none other than Carrie Bickmore.
AND CAN I JUST SAY IT WAS EVERYTHING WE HAVE EVER DREAMED OF AND MORE.
The dress. The hair. The everything. It's all such 90s prom perfection you can picture Carrie circa 1998 walking onto a scene of 10 Things I Hate About You and dancing with Kat and Bianca and that weird Shakespearean chick. It's just… it's just… the 1990s encapsulated in a photograph. It makes me want to curl up on my blow-up pink couch with a Big M and a Tamagotchi and listen to a Britney Spears' greatest hits album.
"My mum came over on the weekend," Carrie started telling her fellow panellists Waleed Aly, Fitzy and Peter Helliar. "And she brought my prom photos, my ball photos."
Carrie Bickmore sat down with Mia Freedman to talk about her life. Listen here:


"I remember going to this prom with this guy and I so thought I was going to score. I thought I was getting a pash by the end of the night.
"I was so in love with James."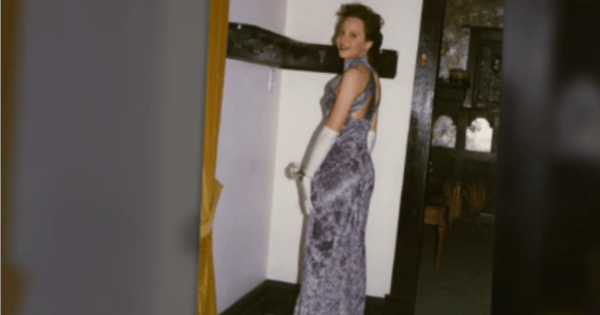 "Do you know when he rocked up - and this shows how much I was never going to score," the Gold Logie alumni continued, "'I think my grandma's couch is made out of that fabric'."
The ever-observant Waleed had more pressing matters to deal with though, in particular this week's hottest mag rumour that the mum-of-two is pregnant again. "In that second photo, are you hiding your baby bump in that one?"
"Oh God, I'm still rocking the same moves, that' a bit disturbing," Carrie laughed.
Keep on keepin' on, Carrie, dorky prom photos unite. You are all of us at our high school formal, and we're loving the velvet inspired frock.