For everything Prince Harry, Meghan Markle and the Royal Wedding in one convenient place, visit our Royal Wedding hub.
The simplicity of Meghan Markle's wedding dress makes it both stunning and timeless. So timeless, in fact, that everyone seems to think she has been inspired by other brides.
First, it was Channel Nine reporter Allison Langdon, who said the dress looked a lot like Princess Mary's.
Then the internet realised that the Givenchy dress looks kinda (a lot) like the dress that Jennifer Lopez wore in The Wedding Planner.
The next to compare her wedding dress to Markle's has been Caroline Stanbury, Prince Andrew's ex-girlfriend from 2000. Stanbury, 42, posted an image of her wedding dress from 14 years ago to Instagram, asking her followers if it looks similar to the Duchess of Sussex's.
"#memories who thinks my dress is slightly similar to today's! 14 years ago" she captioned the image.
While the 2004 wedding wasn't to Prince Andrew, the Ladies of London star married as close to royalty as possible, tying the knot with Cem Habib, who according to the abundance of "CEO" and "Partner" claims listed on his LinkedIn, seems pretty important.
The photo shows Stanbury, walking down the aisle in a fitted white wedding dress, with sleeves past the elbow.
She's right. It does look similar to Markle's dress. It's classically cinched at the waist and looks to be made with a similar fabric.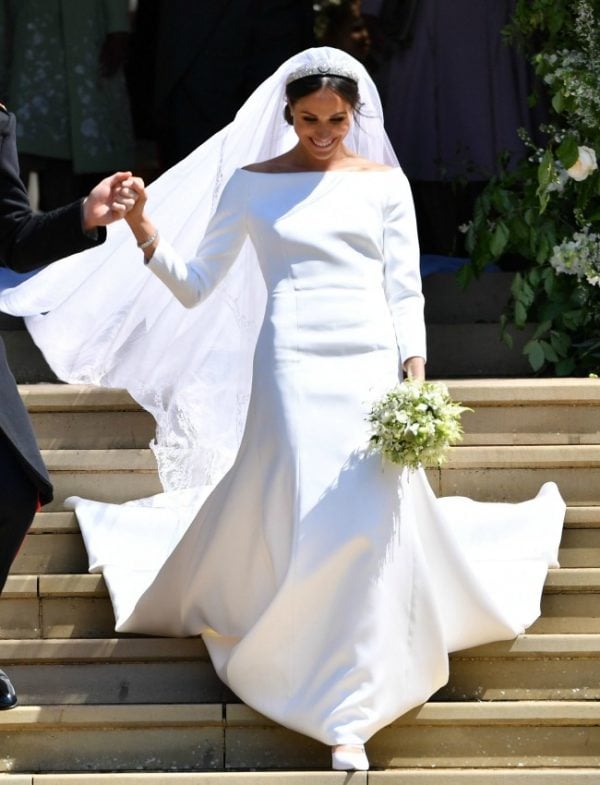 Stanbury's neckline is slightly higher, and the trail of Markle's dress Givenchy gown was significantly longer.
All in all though, Caroline Stanbury has a point. They really do look super similar.
And when Meghan Markle's gown is simple, elegant, and fit for a duchess, who wouldn't want to find the similarities with their own?