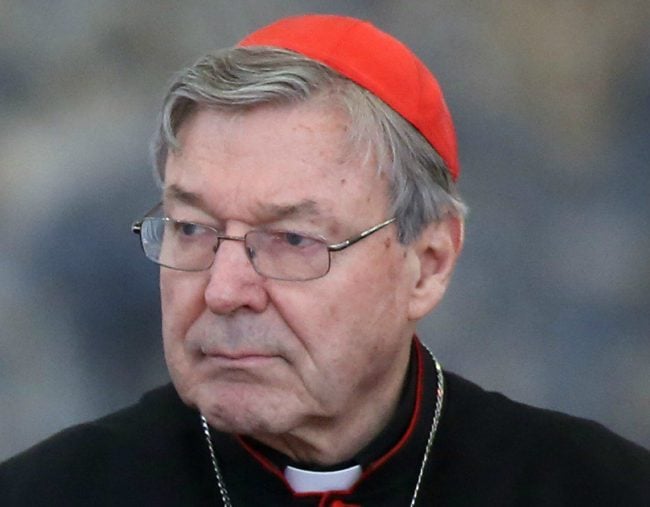 Cardinal George Pell has arrived at the Melbourne Magistrates Court to make his first appearance as the highest-ranking Catholic official to be charged with sexual abuse.
The third most powerful person in the Catholic Church made the short trip to the court from his lawyers' offices to the court just before 9am on Tuesday.
Pell was shepherded into court by a group of police officers through a crush of camera operators, reporters and photographers.
Several photographers were knocked over as they climbed the steps into the court building.
Pell did not answer any questions from the media, which includes a large number from international organisations including CNN.
He was screened by court security, like everyone else, and taken to a room somewhere in the court house.
Several people clapped as he arrived.
The 76-year-old has taken leave from his position as Vatican treasurer to return to Australia to fight historical sexual offence charges involving multiple complainants.
His filing hearing at 10am marks the first stage of what will be a lengthy legal process.
It is an administrative procedure to set the next dates for the court process and may take less than five minutes.
As Cardinal Pell was charged on summons, he could have asked for the magistrate's permission to be excused from appearing in person and have his lawyer represent him.
The former Sydney and Melbourne archbishop and Ballarat priest has repeatedly denied the allegations and maintained he is innocent.
Cardinal Pell has said he is looking forward to finally having his day in court after a two-year investigation.
"News of these charges strengthens my resolve and court proceedings now offer me an opportunity to clear my name and then return to my work in Rome," he said after being charged on June 29.