A preschool aged child has been rushed to hospital with a head injury after an SUV ploughed into shoppers in Melbourne's CBD.
Early reports indicate that a number of people are being treated at the scene, with nineteen people, including the child, taken to hospital, some in critical condition.
The car collided with shoppers during the busy Christmas season close to Flinders street station.
Police have described the incident as a "deliberate act".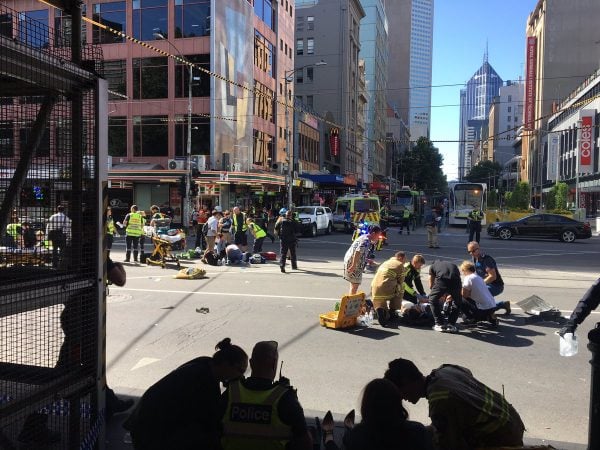 A pre-school aged child suffering a head injury is among those hurt, and has been rushed to the Royal Children's Hospital in a serious condition, Ambulance Victoria says.
The child is not in a critical condition.
Aerial footage of the scene shows a white Suzuki SUV crashed into a tram stop.
The vehicle ran a red light just after 4.30pm on Thursday, witnesses have told 3AW.
The driver has been arrested. He is a 32-year-old Australian citizen, and was known to police. He was a history of assault, drug use and mental health issues. He is receiving treatment for a mental illness, Victoria Police said in a statement.