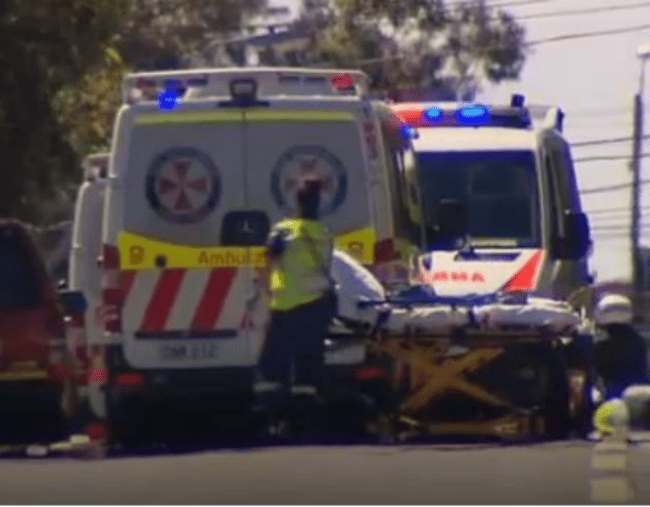 Two boys, aged eight, are dead after a car smashed into a Sydney classroom, leaving children screaming for their parents amid a scene of "carnage".
A Toyota Kluger driven by a woman, 52, hit the weatherboard building at Banksia Road Primary School in Greenacre about 9.45am on Tuesday.
Five students were initially taken to Westmead Children's Hospital NSW Ambulance and police later confirmed two boys aged eight years old had died.
A nine-year-old girl is in a serious condition and two eight-year-old girls are in a stable condition.
Paramedics arrived to "a scene of carnage" with "distressed and overwhelmed children and teachers", NSW Ambulance superintendent Stephanie Radnidge told reporters.
It was "pandemonium", Ms Radnidge said.
There were 24 children in the classroom when the crash happened. Seventeen children and a female teacher were assessed on the grounds by paramedics.
Year four student Mariam Issmail was in a nearby classroom when the car smashed into the school.
"We were just doing work and all of a sudden we heard this big bang," she told AAP.
Mariam says multiple schoolmates were injured, adding that twin girls were among those hurt.
"(Students) were screaming, saying they wanted their mum, I want help," she said.
Mariam's mother Khadige Issmail was at Bankstown when she heard the news.
"Everything went blank," she said.
"Obviously, this is a very, very tragic event," NSW Police Acting Assistant Commissioner Stuart Smith told reporters.
The driver, who did not require medical treatment, was taken to hospital for mandatory blood and urine tests.
The car was on the school grounds when the incident happened but police don't believe it was intentional.
"We're not looking at this as an intentional act. It is a crash investigation," Mr Smith said.
Two chaplains were brought in to the school to support the victims.
"They were crying, they were distressed, some were asking for their parents," Ms Radnidge said.
Ms Radnidge said the deceased boys had suffered multiple traumas and were unconscious when they were rushed to hospital.
"It is very, very hard because we are parents ourselves, we are human beings," she added.