Today began like any other day.
My alarm sounded at 7:30am and – as is the case every morning – I was severely traumatised.
"I wake up every weekday morning at the same time…" I thought to myself. "How is it still such a shock?"
Filled with resentment and also disdain, I rolled out of bed and into the shower. I can't even remember the next 15 minutes because it was too early and I still feel sick about it.
Anywho, as I wrapped myself in a towel I caught a glimpse of my face in the mirror, and had my first coherent thought of the day.
"Jesus," I muttered.
I looked tired. Having gone off my pill recently, my skin has gone a little haywire. My eyebrows looked particularly transparent, and I had no…facial features.  I looked like this meme:
There's nothing wrong with looking like that, it's just... it wasn't the look I was going for today. 
So I went to grab my make up in a bid to fix my face (I realise how absurdly problematic that sentence is - more on that later).
But...but...
It wasn't there. My make up was gone.
I spoke about the ordeal on Mamamia Out Loud this week, with Monique Bowley and Mia Freedman. Post continues below.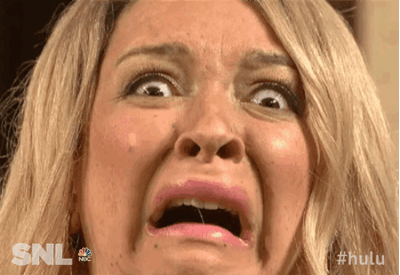 Firstly, it was too early for this sh*t. Secondly, my whole day was ruined and it wasn't even 8am. Thirdly, this takes First World Problems to a whole new level and I hate myself.
But my visceral response to this situation was very real. I panicked. I tried to problem solve. I considered not going to work and for a moment actually thought my missing make up was a valid excuse.