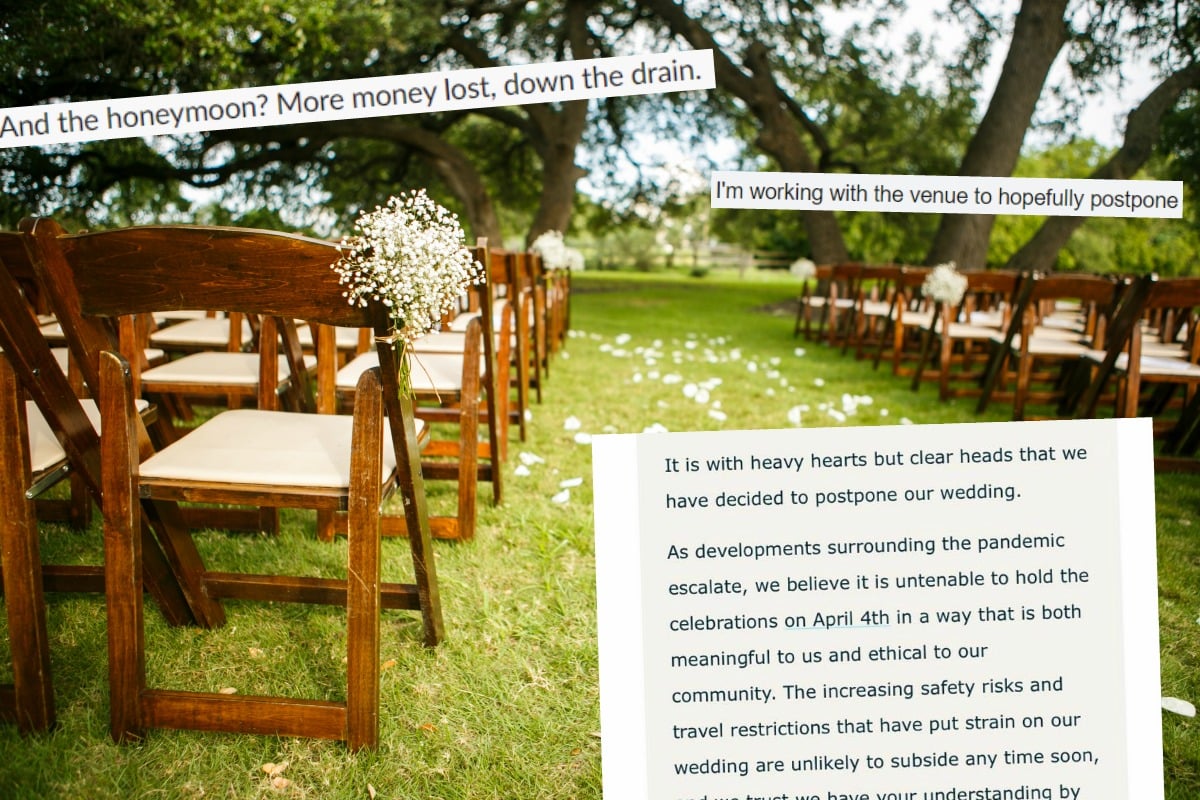 As a woman in her early thirties, I'm part of that specific age bracket where there's a wedding to attend every other week.
Many of my girlfriends have spent the better part of a year planning theirs; wrangling guest lists and suppliers, coordinating travel and accommodation, footing bills and squeezing in fittings.
The boxes are ticked, the celebrants briefed, the gowns hanging neatly in garment bags: their time has finally come.
Except it hasn't.
According to easyweddings.com.au, March is the most popular month in Australia for weddings. Now, thanks to COVID-19, countless couples are having to reassess, delay or cancel their big day entirely.
When it comes to celebrating love with one's nearest and dearest, it really couldn't be worse timing for a virus that thrives on human contact.
Engagement ring trends through the decades. Post continues below.

A close friend was set to marry her fiancé in Greece this July. When we received the invite last year, without hesitation, my partner and I booked flights and accommodation to attend their epic celebration in the Greek Islands. Just us, our friends and 400 of their closest family members.
Now, with the news from this morning's press conference that international travel could be in question for up to six months, they've made the call. The wedding is off.
At the very least, my friend mentioned, the announcement has given them some certainty. For weeks, they've sat in a sort of pre-nuptial limbo – waiting to see just how far this thing spread; for more definitive direction.
First it was a ban on crowds of 500 (even my Greek friends slid in under that number). Now, it's gatherings of over 100. The average wedding these days has 120 guests – so unless you're prepared to do some awkward last-minute culling, this makes things difficult.
And sure, a wedding might be a "non-essential gathering". But for those in the final throes of planning one, that's not the frame or scale of reference they would use.
No one I spoke to for this article was under the impression their big day was more important than managing the spread of this virus. But that doesn't mean facing up to the costly and emotional reality of the situation doesn't hurt. A lot.