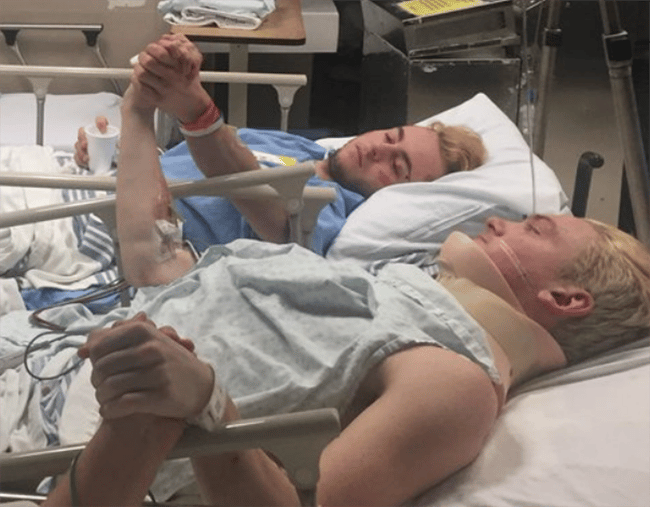 1. "Every parent's worst nightmare." Bus carrying junior hockey team in Canada crashes, killing 15 and injuring dozens more.
A horrific bus crash in Canada involving the Humboldt Broncos junior hockey team has sent shockwaves through the National Hockey League.
WATCH: 15 members of a junior ice hockey team killed in a bus crash, from Seven News.
The crash on Friday afternoon killed at least 15 people, including the Broncos' coach and team captain.
The team comprises 16- to 20-year-olds and was headed to a playoff game in Saskatchewan when a semi-truck slammed into its bus.
A harrowing image of three of the survivors holding hands in a hospital ward – one in a neck brace – shows the bleak reality of the tragedy and its aftermath.
The father of one of the players in the shot, Derek Patter, took the photo just hours after the crash and posted it to social media with the caption:
"Derek Grayson and Nick bonding and healing in hospital."
He also said they were "one of the luckier ones" and that, "We're just sitting here in the hospital waiting to hear who's left us"
Derek Grayson and Nick bonding and healing in hospital pic.twitter.com/DzesIoT27B

— R J patter (@rjpatter) April 7, 2018