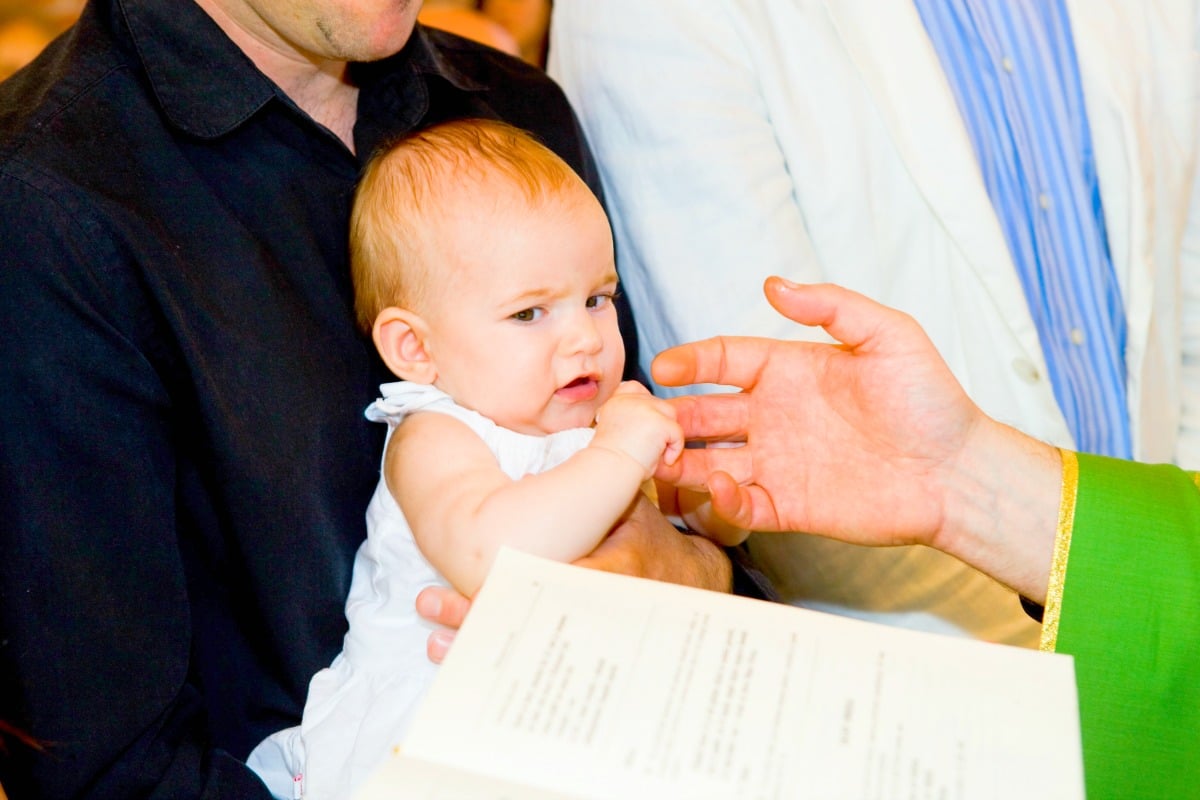 As any parent knows, babies are a game-changer. The instant you bring a child into the world, all of the social norms you once so strongly believed in, literally fly out the window.
Sometimes, it's a matter of convenience, sometimes it's because you're so distracted and/or overwhelmed, you just don't care what others think. But more often than not, you're trying to balance a range of people's wants and needs – and that juggle is real.
Change a nappy on someone's dining room table? Bring a child with a runny nose to playgroup? Take a packet of chips as a starter to a dinner party?
No one warns you that one of the hardest parts of parenting is having to make decisions when you're simply not sure what the right – read, socially acceptable – thing is to do.
This is definitely the case when parents need to decide whether or not to bring their infant to a funeral. This very dilemma was recently put to Mamamia's podcast for imperfect parents, This Glorious Mess, hosted by Holly Wainwright and Andrew Daddo.
A member of Mamamia's Facebook parenting group, The Motherish, posted that she needed advice on whether she should take her one-year-old to the funeral of her mother-in-law's father.
Unsure of what to do, she wrote, "I'm now apparently a horrible person for saying I'll just meet everyone with my one-year-old after the service."
Andrew Daddo and Holly Wainwright discuss the intricacies of babies and funerals on our parenting podcast, This Glorious Mess. Post continues after.
The mum had other issues, too.
"It's going to be cold, probably wet, and [my baby] has recently stopped taking his dummy, and is not the type of child who'll be quiet and sit still for a long period of time."
Clearly, wanting to keep everyone happy in the situation wasn't going to be easy, as she explained why her son's behaviour was concerning her.
"He doesn't really get upset, but it's happy noises which I know will irritate a few family members who are not coping well with [mother-in-law's father's] death. I'm not sure if it's their grief that wants him there, but I know it's not the best idea, and I've tried to explain my point of view."
Finally, the mum asked directly what people thought she should do.
"Do I stick to my guns and meet everyone after, or do I give in and take him, when I'll most likely have to leave with him if he gets restless, or I'll be labelled a parent who can't keep their child under control?"