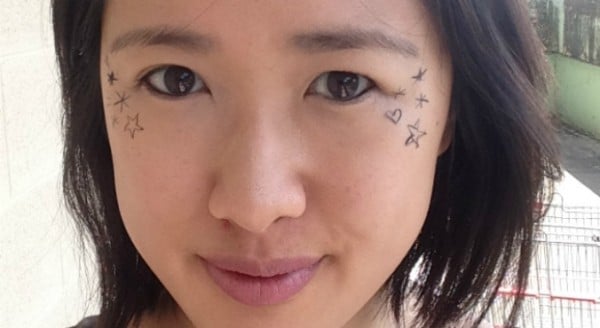 Image: Supplied.
Runway beauty looks are often described as "fantastical", "creative," and "bat-shit crazy". You know what I mean. When we spy a runway model in a magazine with orange paint all over her face, purple false eyelashes and Marge Simpson hair, we never think, "Oh, lovely, I'll copy that look for when I catch up with the in-laws".
You may instead ponder: who would wear that makeup in public? Who, indeed! For your entertainment, and for the sake of Very Important Beauty Research, I decided to take three of the craziest makeup trends from the recent international fashion weeks and put them to test in my daily life.
Related: 5 beauty looks that men hate. (But women love.) 
 Runway look 1: Face tattoos
Hand-drawn, temporary face tattoos were a big trend at the international Fashion Weeks. My favourite take was at the Giambi show during Milan Fashion Week, where whimsical, witchy stars framed the models' eyes (see top photo).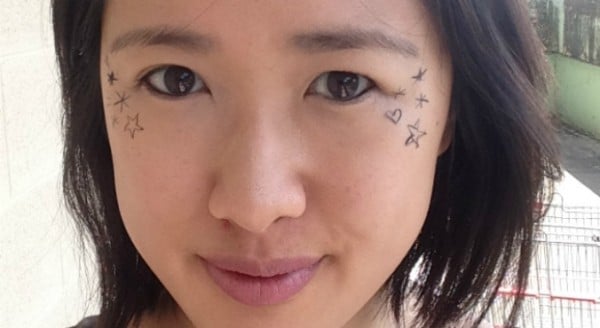 My experience: One Saturday morning, I sat in the car park of my local Westfield, and used Maybelline Master Precise Liquid Liner to draw stars and hearts around my eyes. After that, I sat in my car for fifteen minutes and replied to all two of my texts, because I was too embarrassed to get out.
In the end, I was worried about nothing, because people were either supportive, polite or too busy to care. I even stared into people's faces as they walked past, and they looked back at me, and nothing was said. No-one even smirked. The best part was when I was shopping in Sportsgirl, and a lovely sales assistant named Sam approached me.