He's the youngest, most inexperienced player at the centre of cricket's biggest scandal. Cameron Bancroft, who joined the Australian test side just months ago, was spotted using sandpaper to alter the surface of the cricket ball during a match against South Africa on March 24.
Since then, he's been hit with a nine-month ban and Australia has watched on in horror as the team's captain Steve Smith, vice captain David Warner and coach Darren Lehmann have all stood down because of the scandal.
Now, one of Bancroft's former teammates, Perth Scorchers star Michael Klinger, has shared the emotional message Bancroft sent to him in the midst of the unfolding saga. It's a message, he says, that proves the young cricketer's true worth.
In an op-ed written for Player's Voice, Klinger said he sent his teammate a message of support as news of the scandal came to light.
"It was something along the lines of, 'Thinking of you, mate'. I'm sure he'd received hundreds of similar ones," Klinger wrote.
"The guy's world was being turned upside down and there are plenty of people like me who care for him."
But Bancroft's response, Klinger said, "summed up what Bangers, the person, is all about".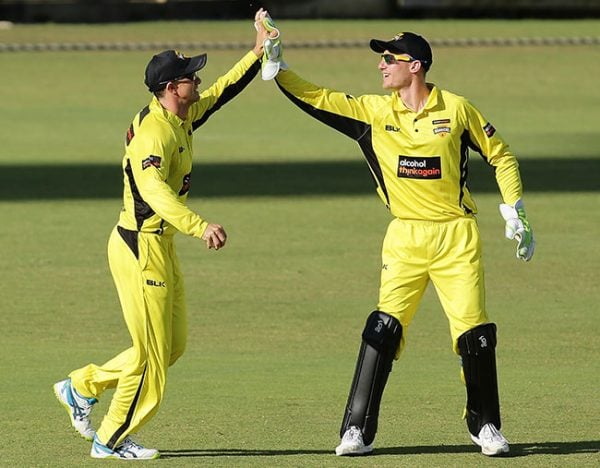 "He thanked me, then turned the discussion to my family. He said my wife, Cindy, is going through something of far greater significance than what he was experiencing in South Africa," Klinger shared.
Cindy was diagnosed with breast cancer just a few months ago. "That, he added, was true perspective," Klinger said.
"I think that's a pretty remarkable way for a 25-year-old bloke to respond in the middle of the biggest crisis of his life, one that was being documented all over the world," Klinger shared, adding that he didn't condone his teammates actions, but instead wanted to let fans know that Bancroft is not a "bad bloke".
LISTEN: Why are we outraged about cricket, but not an NRL player who has been done for domestic violence? The Mamamia Out Loud team discuss. Post continues after audio.
As Bancroft, Smith and Warner have tearfully faced the press over the past few days, the tide of public opinion has turned: while at first angry over the players' actions, cricket fans are now calling for compassion and forgiveness as the trio take responsibility for their decisions.
In a press conference to explain his actions last week, the 25-year-old said he "panicked" and lied about the sandpaper during an initial press conference, and that he regrets his involvement in the ball-tampering saga.
"It is something I will regret for the rest of my life," he said of his actions during the game.
"All I can do is ask for forgiveness... I will do my best to contribute to the community. I have never ever been involved in tampering with the ball (before now) and it clearly compromises my values and what I stand for as a player and as a person."
Klinger says the time for support is now, and describes Bancroft's decision as a "bad chapter in a good story".
"He's a kid who made a mistake, the consequences of which he will live with for the rest of his life," Klinger wrote.
"He has endured public scorn, experienced humiliation and dealt with sanctions that will hurt him financially, professionally and reputationally. That's a lot for any human being to go through.
"The time for finger-pointing has come and gone. The time for support and healing is now."