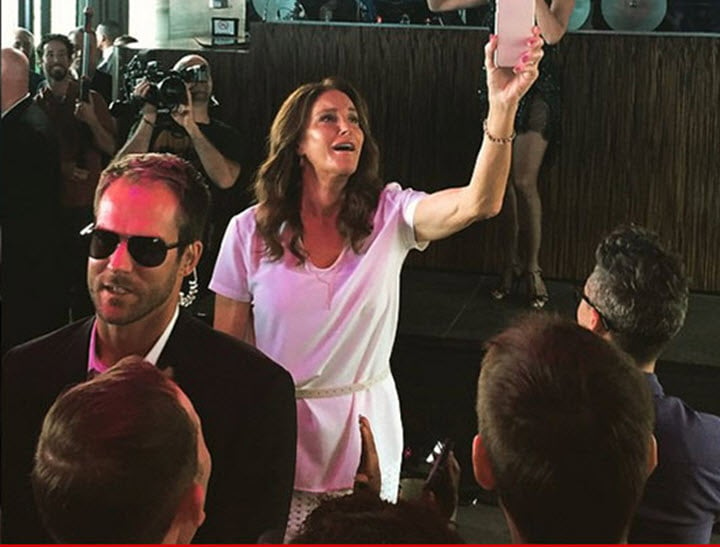 She's in New York.
Caitlyn Jenner is painting New York City red, hanging out at Gay Pride events and going out for dinners with friends – and looking mighty stylish as she does it.
She was out for dinner at an Italian restaurant in Tribeca in what looks like a Kardashian-approved Herve Leger dress on Monday night.
Earlier in the day, she checked out New York's LGBT Community Center in Chelsea wearing a very nice navy wrap dress.
We'll say one thing for her: she's the most elegant of the Kardashian/Jenner clan. By far.
Check out more of Caitlyn's New York hijinks.
Caitlyn Jenner in New York.
What Mamamia said previously…
It's her first public appearance at an LGBTQ event.
The Gay Pride parades this year couldn't have happened at a better time, coming as they did just after the US legalised same-sex marriage in all 50 states.
The remarkable Supreme Court ruling has been celebrated around the world (seen how rainbow your Facebook feed is lately?), but nowhere more than in New York.
The city hosted America's largest Pride parade on Sunday, and it was attended by thousands of jubilant revellers – including Caitlyn Jenner.
As her daughters partied at Glastonbury, Jenner, 65, attended a Pride event at the PH-D Rooftop Lounge in the Dream Downtown Hotel in Chelsea.
She wore an understated white ensemble and appeared in high spirits, dancing and waving her drink around.
According to bystanders, she made quite the entrance and was greeted with chants and applause, then danced around and flipped her hair. Yep. FLIPPED.