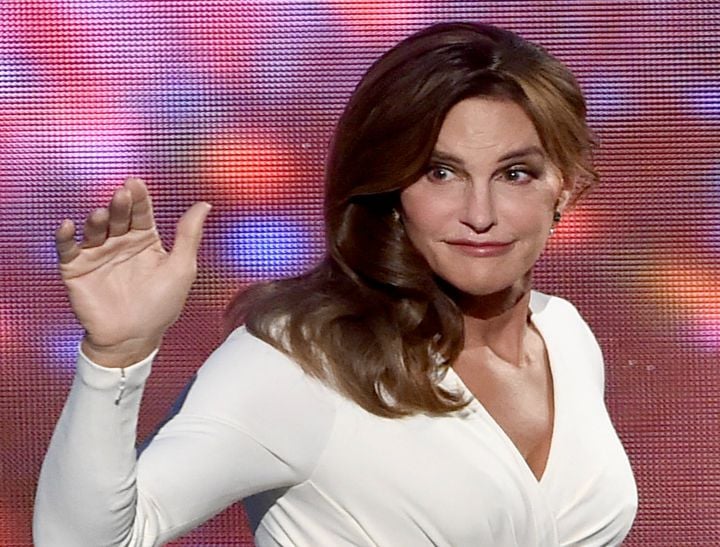 We've rounded up all the latest stories from Australia and around the world – so you don't have to go searching.
1. Caitlyn Jenner could face manslaughter charge.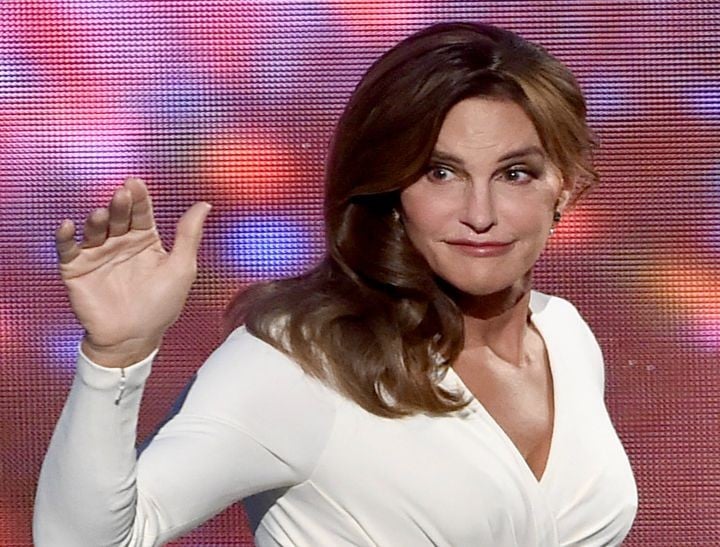 Caitlyn Jenner could be charged with manslaughter over a fatal car crash in February.
Police in the US have said that they will recommend the manslaughter charge as Jenner was travelling at a speed unsuitable for the road conditions according to ABC7.
"The case will be submitted to the district attorney next week," said Lt. Shaun Mathers of the Los Angeles County Sheriff's Department.
As there's "nothing really egregious" in the case, Det. Richard Curry of the Sheriff's Dept. said there's a "50/50" chance that she will be charged.
A misdemeanor manslaughter charge usually carries a one-year county jail sentence.
Jenner was driving down Pacific Coast Highway on February 7 when her Escalade hit another vehicle, causing a chain-reaction crash.
At the time Jenner released a statement:
"My heartfelt and deepest sympathies go out to the family and loved ones, and to all of those who were involved or injured in this terrible accident"
It is a devastating tragedy, and I cannot pretend to imagine what this family is going through at this time. I am praying for them. I will continue to cooperate in every way possible."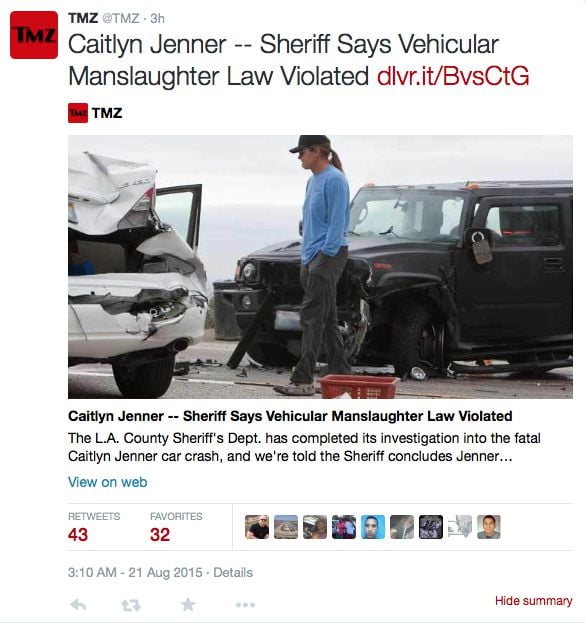 2. Police watched fireworks as sexual assault victim sat distraught in back of van.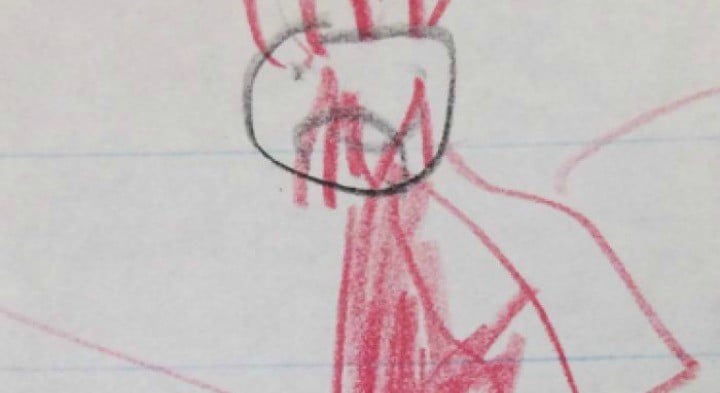 A Senate inquiry has heard that Nauru police watched a fireworks display for 45 minutes while a distraught, half-naked female asylum seeker who had been sexually assaulted sat in the back of the police vehicle.
Fairfax Media reports that the Nauru government "strongly rejects" the anonymous claims made to the Senate Inquiry – thought to be from a former detention centre worker.
An earlier submission claimed a 23-year-old victim was attacked by a man while on day release and forced to give oral sex for more than an hour as the assailant bit her breasts and shoulders.
Another woman was said to have found the woman and located police.
"Police then stopped on the way back to the station to watch a fireworks display for 45 [minutes] … with a distraught, half-naked sexual assault victim" in the vehicle, the submission said.
Nauru police were said to have thought she had "made the whole thing up".
While the police eventually conceded the attack may have occurred, they insisted a fellow refugee, rather than a local, was responsible, the submission alleged.
From Fairfax Media: "The former employee said the police investigation did not progress and Nauru police do not have the capacity to properly interview or forensically examine a sexual assault victim."
However a spokesman for the Nauruan government told the newspaper
"These claims are completely wrong and are rejected outright. "
3. Treasurer doubts GST on tampons will be removed.
More than 100 000 people have signed a petition, Stop Taxing my Period that will be tabled in Parliament today ahead of the Treasurers' COAG  meeting.
Australian Greens Deputy Leader and spokesperson for women, Senator Larissa Waters, who will table the petition at about 11:50 am, said:
"When the treasurers meet on Friday, women across Australia will be counting on them to finally end this sexist tax.
"Tampons and pads should have never been taxed in the first place. It screams of policy created without enough women in the room."
Most stares have declared their support for the abolition of the tax – with Western Australia and Tasmania still to declare their position.
Senator Waters said it was "disappointing" that the NSW Treasurer Berejiklian, has said she won't support the removal of the tampon tax.
"I urge Treasurer Berejiklian to reconsider, especially as the young woman who started the Stop Taxing my Period petition, Subeta Vimalarajah, is one of her own constituents in NSW.
Speaking on the ABC last night the Treasurer, Joe Hockey said that the GST on tampons was likely to stay as NSW did not agree with the removal of the tax.
"Look, it will be done. We have to move on to other issues,"
For there to be a change to the GST, all states and territories must agree.
4. Greek leader resigns to force early election.
The Greek premier Alexis Tsipras has quits to force an early election.
In a televised address the Greek leader announced his resignation, saying it was up to voters to judge whether he adequately represented them in a battle with foreign lenders on austerity demands.
Tsipras effectively lost his parliamentary majority after a rebellion by hardliners in his Syriza party who oppose a bailout agreement struck with international lenders.
Earlier, a government source said the aim was to hold elections on 20 September after Tsipras had met senior party officials and ministers to discuss the government's next move.
5. Bomb suspects hand themselves in.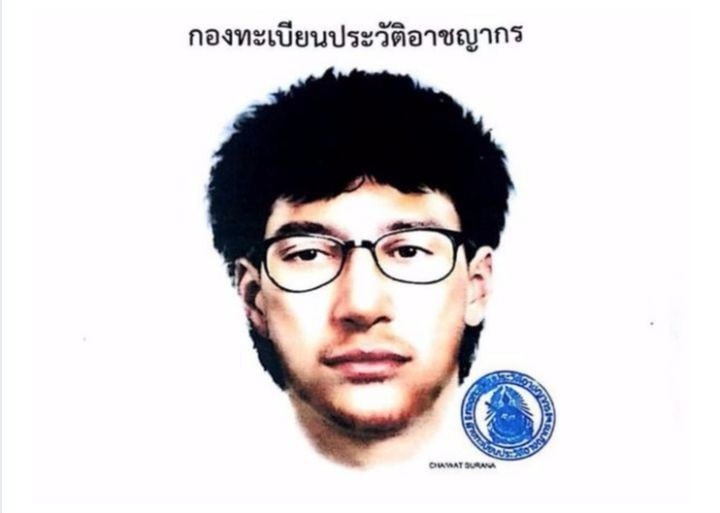 Two suspects who police wanted to speak to in relation to the Bangkok bombing earlier this week have claimed they are just tour guides.
The two men seen in the CCTV footage – along with a suspect in a yellow T-shirt police are still searching for -have denied involvement.
Colonel Winthai Suvaree, a spokesman for Thailand's ruling junta, said foreign militants were probably not responsible.
"The incident is unlikely to be linked to international terrorism," Winthai said.
National police chief Somyot Pumpanmuang said the attack was planned at least a month in advance by a network of least 10 people.
"This includes those who looked out on the streets, prepared the bomb and those at the site and … those who knew the escape route,"
No one has claimed responsibility for the blast which is Thailand's worst ever bombing.
6. The refugee photo that has gone viral.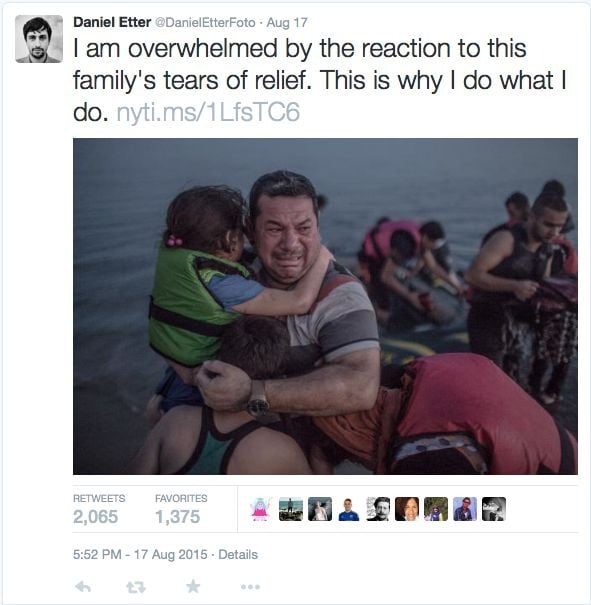 An image of a refugee family showing a father crying as he clutches his child, moments after they landed ashore on the Greek island of Kos has gone viral with the world shedding tears at the striking image.
The Syrian refugees who arrived on Kos after departing from Turkey were captured by photographer Daniel Etter, who was documenting the influx of migrants to the tiny island.
In the image the father, Laith Majid, who is from Deir Ezzor in Syria, clutched his two children and is embraced by his wife as they arrived ashore.
Behind them are some of the 13 or so other migrants – men, women, children – who also took the perilous journey from Bodrum in Turkey to Kos aboard a rubber boat that was leaking air.
Etter's photograph of Majid and family was originally published in The New York Times.
It has now been shared on social media millions of times.
7. Was Frank the cat deliberately targeted by cement?
A heartbreaking photo of a cat covered in cement uploaded to Facebook has been said to have been the result of an accident rather than a animal cruelty.
Yesterday Sydney woman Cassie Mathieson posted the image of Frank her colleague's cat saying the cat had been covered in cement and now had his eyes plastered shut "Somehow he found his way home…his eyes were cemented shut, his nose and mouth covered."
"Somebody caught him and held his head in wet cement. He is in terrible pain…please share this the piece of sh**t who did this to him must be found and punished."
She said that Frank the cat may lose his sight.
After being posted the Seven News Facebook site a Bondi resident said that it could have been the cat on his building site that day.
"He was on my job site at Bondi no one put his head in cement the cat was running around trying to get out when the concrete was poured and no one could catch him!'"
However some said he could have done more "So they let the cat walk home blind? I'm sure it struggled they could have grabbed it then and washed the wet concrete off its face!"
Mr Ryan said they tried to catch the cat but couldn't.
Do you have a story to share with Mamamia? Email us [email protected]
[post_snippet id=324408]