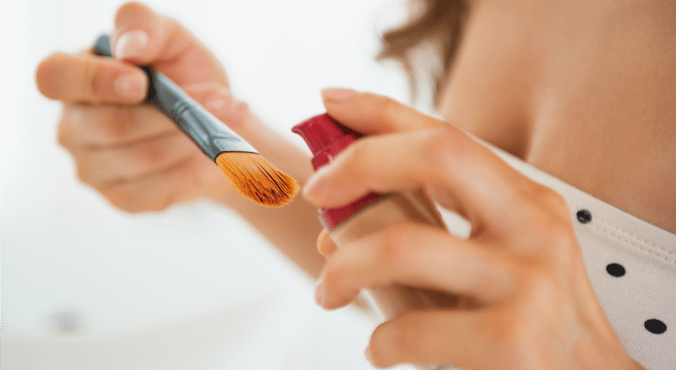 Image: iStock
Like so many women, I thought the only way to get the right shade of foundation was to go in store and spend a great deal of time drawing swatches down your cheek. Sometimes though, that's just not possible. (Especially if you have two children under the age of five).
Here's a handy guide on how to buy the right foundation online, which almost guarantees happy squeals when the postman arrives.
StrawberryNet. Is it real or fake?
Whether you're buying foundation from an Aussie store online, or whether you're looking overseas for some exclusive brands, rest assure that it is possible to have the right shade arrive on your doorstep. You just need to know what to look for.
1. Know what you want
Narrowing down what you want from your foundation will make the whole process a lot easier. Decide whether you want something lightweight, medium or full coverage. Then, focus on what else is important to you in a foundation. If necessary, write a list of what you want from a foundation such as long lasting finish, hydrating, dewy or matte.
The 4 things you should know before buying a new foundation.
Think about the foundations you already own (or have tried) and consider which ones you liked best. What was it about them that you liked, and what would you change? Use the resource that you have in front of you and Google the answers. Likely, someone has had the same questions as you do, and the answer is already there. Like the finish of that foundation, but would prefer something a little longer lasting? Type away and see if anyone's already done your research for you.
2. Know your tone
I often find that the most important aspect to finding the right foundation is knowing your undertones. Generally it goes like this: Cool toned girls have pink, red or bluish undertones to their skin. Warm toned women will see yellow, peach or golden tones, and neutral girls have a mix between warm and cool.
Keep in mind your undertones have nothing to do with the colour of your skin. Dark skinned women can still be cool toned and likewise with warm-toned pale chicks.
33 problems only pale girls understand.
A quick way to work out which undertones you have is to hold a piece of blue material up to your face. Then do the same with something red. If the blue looks better, you're cool toned and if the red suits you more, warm toned it is.
Another cheeky tip is to look at the inside of your wrist. If your veins look more bluish in colour, you're cool. Green looking veins usually belong to warm toned people.