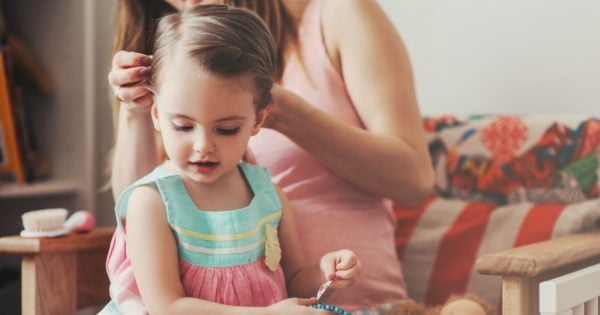 I have three children (and a husband, a dog, a cat, three budgies and three fish) as well as a job, friends and family. If it weren't for the busy mum hacks I've honed and developed over the years my family wouldn't be washed, dressed or fed, not to mention all the work I have to busy myself with each and every minute of every day.
Here are the 8 busy mum hacks I SWEAR by that take multi-tasking to another level. Each is designed to save time so I get my "me time". The more "me time" I get, the better I am at everything.
1. Do girl hair the night before.
Twice a week my daughter and I play hairdressers. I sometimes colour mine, I put a treatment in her curly locks, then I plait her hair so the next day I only have to take it out and style it quickly.
For mine, I do a full blow dry and then I wrap it up into a top knot. The next day I just shake it out and spray it. Done and done.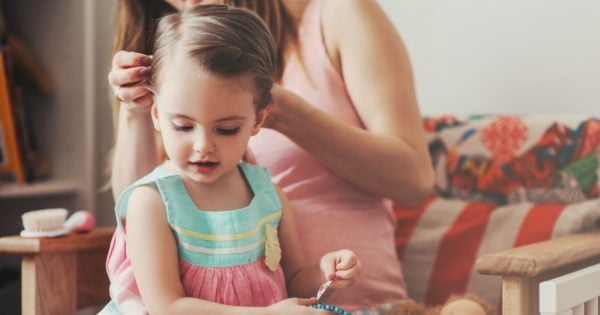 "Twice a week my daughter and I play hairdressers." Image: iStock.
2. Stock up on educational toys.
While we are doing our hair and having our girlie bonding time (added bonus) I have to make sure my boys are busy. By stocking up and good quality engaging toys I can rest assured that I will have plenty of time to do both our heads of hair knowing that my boys are happy and engaged. The fact they are learning something at the same time removes all of the guilt. Boys have it so easy when it comes to hair.
3. Never cook only one meal.
Always cook two dinners at a time - one for that night and one for later in the week. Some afternoons and evenings get so busy that you can end up feeling tired and drained and cooking dinner is the last thing you want to do. Or you might not have time to cook a proper meal. That's when you get out the pot of spaghetti or heat up the baked chicken. It's a time-saver, a money-saver as well as much healthier than going the fast food route.