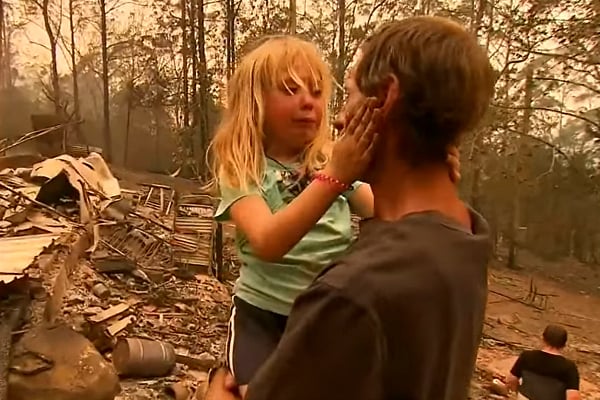 When Emily Smith saw the pile of scorching, twisted metal and rubble that was her home, she let out an animalistic cry. Turning to her young daughter she sobbed, "I'm sorry. I'm sorry, bubby".
9 News Sydney captured the little girl, arms around her mum, comforting her through her own tears; "It's alright. It's alright".
Emily's home, in the town of Bobin, is among 45 to have been destroyed in deadly bushfires that have torn through northern NSW, claiming three lives. Among the dead was grandmother of six, Vivian Chaplain, who died trying to protect her home at Wytaliba.
For a time on Friday, Emily's 14-year-old son, Jake, feared Emily may too have perished. He and Emily's partner, Nathan, came home to find their property ablaze. Wet t-shirts wrapped around their heads, they turned a single hose against the flames, unaware that Emily had made it out safely.
Emily told 9 News it took just 30 minutes for their property to be reduced to ash.
"There was nothing he could do," she said. "He tried. He watched his own house burn to the ground, and his mum wasn't there to hold him. His mum wasn't there to cuddle him."
"The most dangerous bushfire week this nation has ever seen."
As of Monday night, there were 60 fires burning across the state, 28 of which were uncontained. And the situation is expected to deteriorate today.
Firefighters in eastern NSW are bracing for never-before-seen conditions, with temperatures soaring into the high 30s, combined with low humidity and strong winds.
The roughly 6 million people in the Greater Sydney, Greater Hunter, and the Illawarra and Shoalhaven regions have been placed under catastrophic fire warnings, forcing the closure of more than 600 schools and TAFE campuses out of concerns for student safety.