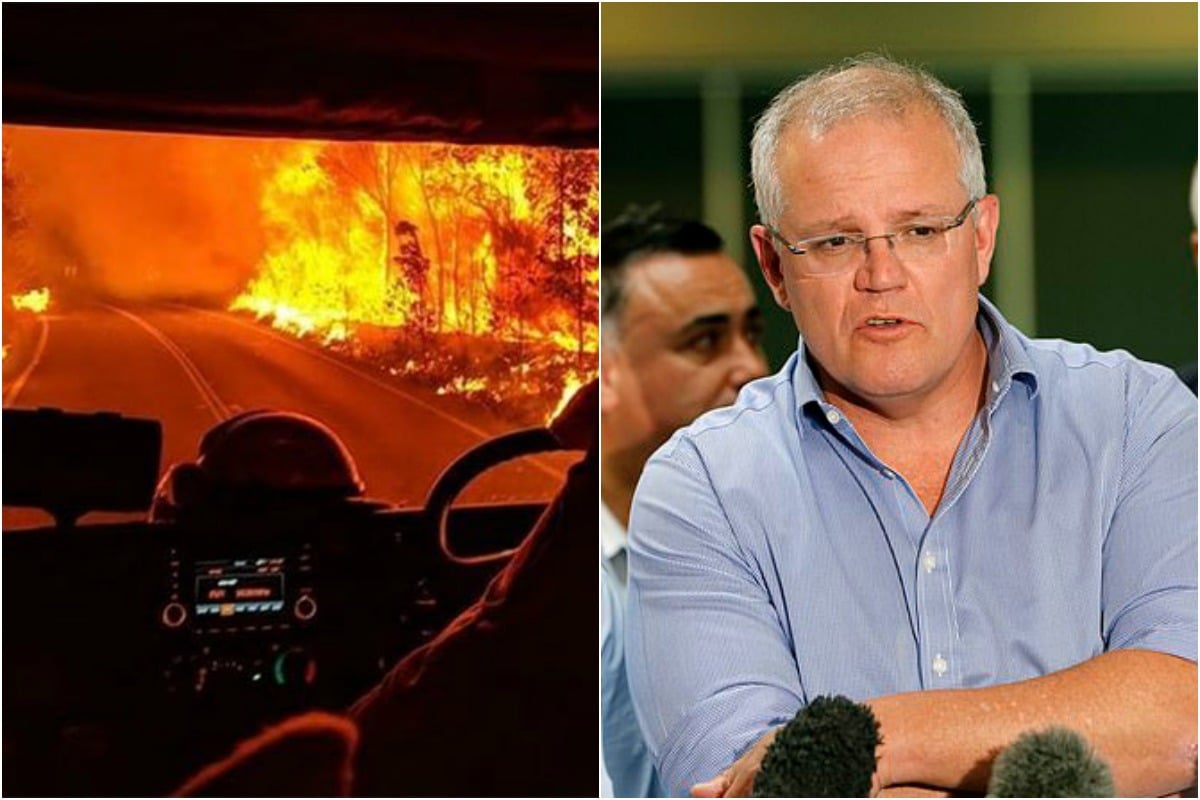 As our backyard burns, our Prime Minister Scott Morrison has borrowed a platitude from President Donald Trump's phrasebook. He'd like to send "thoughts and prayers".
At a time like this, it's difficult to think of anything more useless.
Thoughts and prayers don't rebuild homes.
Thoughts and prayers don't change anything for the families of the three people who are now dead.
They won't bring back the land that has already been destroyed in a fire season that's been described as "as bad as it gets".
They won't revive the hundreds and hundreds of koalas who have been cremated clutching to the trees that were their homes.
Of course, there is nothing that can be done now to change any of that. We must do the best we can with what we've got, which is what thousands of firefighters, SES volunteers and emergency workers are doing throughout NSW and Queensland.
But as we look at the images of smoke-filled skies, towns draped in apocalyptic red, and raging flames as far as the eye can see, it's difficult not to think: We were warned.
This is precisely what we were told was going to happen.
It's been 30 years since climate change first became news.
It's been 13 years since former American Vice President Al Gore released the documentary An Inconvenient Truth. 
There's been papers and conventions and summits and guidelines by the United Nations and a furious teenage girl from Sweden yelling in the faces of (predominantly) men who refuse to pay attention to what is right in front of them.
Just last year a United Nations report told us that we had 12 years to make "massive and unprecedented" change to global energy structure. We were told there would be more wildfires and more drought. Things were only going to get worse, we were explicitly warned, if changes were not made.
We'd barely finished reading the report when the Adani Carmichael coal mine in Central Queensland, Australia was approved. In May 2019, we elected the Liberal Party led by Prime Minister Scott Morrison – a party who had no policy on climate change.
Morrison has voted against a carbon price, the Carbon Pollution Reduction Scheme, increasing the protection for Australia's fresh water and increasing investment in renewable energy and carbon farming.
On top of that, NSW Liberals cut the budget of Fire and Rescue NSW by 35 per cent, and the Rural Fire Service by 75.2 per cent just this year. That corresponds to 100 firefighters and 50 fire trucks.
Catastrophic fire danger is forecast for the Greater Sydney and Greater Hunter areas on Tuesday – the highest level possible, and the highest since the scale was invented 10 years ago.
To put it simply, the NSW Rural Fire Service Commissioner, Shane Fitzsimmons, says this level of fire danger is "where people die".
"You can see the extraordinary events we have experienced here in recent days," Fitzsimmons said. "Never before have we had 17 emergency warning fires burning at once, all competing for resources, for support, for assistance, and the reality is we simply could not get to every individual…
"No one can guarantee that a fire engine or a firefighter will be at your front door. We simply cannot do it."
And still, our leaders refuse to comment on climate change.