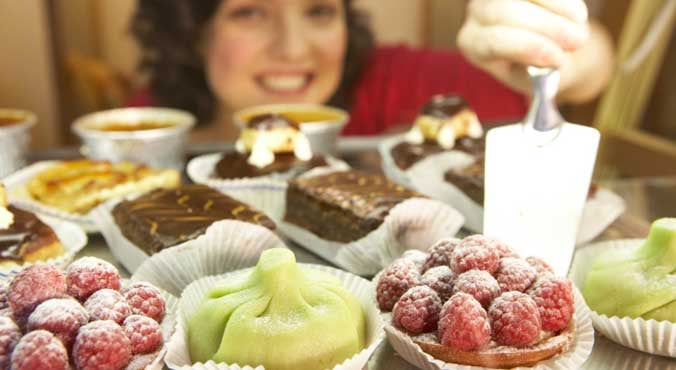 Image via ThinkStock
Because I am the worst the best health and fitness writer everrrrrr, I eat dessert regularly. Almost every day. Sometimes *cough* twice a day, if there's something particularly good on offer.
And no, I'm not talking about having one square of dark chocolate after dinner, or a piece of fruit. I'm talking about REAL dessert. Magnums and chocolate mousse and cake and cronuts and Messina and Tim Tams and M&Ms and apple pie and ice blocks and Max Brenner waffles.
---
Enjoying this post? You might be interested in…
6 pasta substitutes ranked from most to least pasta-like
15 foods you don't need to buy organic -and 12 you do
8 foods that nutrition experts refuse to eat
---
To me, life is too short to not enjoy the delicious items on offer. In situations where eating dessert before dinner is socially acceptable, I will totally go down that path.
The problem is, of course, that dessert is a sometimes-food. These days, we are constantly told that sugar is evil and it's going to kill you and your entire family.
By eating something sweet every day - even if it was just one of those teeny, individually-wrapped Tim Tams, which are delicious, but let's be honest, not really enough - I quickly convinced myself that I was going to end up with diabetes by the age of 25. So I decided to consult some experts and get them to weigh in on exactly how often you can eat dessert - and what you should be eating.
I spoke to Professor Merlin Thomas, who is the Adjunct Professor of Preventative Medicine at the Baker IDI Heart & Diabetes Institute.
I also spoke to Accredited Practicing Dietitian McGuckin, a spokesperson from the DAA.
Together, they told me...
Yes, you can eat dessert every day.
10 desserts so delicious you won't believe they're healthy
Professor Thomas explains that our biggest health problem isn't dessert - our biggest health problem is becoming overweight.
"This only happens when the total amount of energy we consume is greater than the amount we burn up in our metabolism," Professor Thomas explains. "We then store this extra energy as fat, initially under the skin, and in our bums, thighs, and breasts. When those depots are full, excess energy is captured in and around our internal organs, which significantly contributes to diabetes, heart disease and cancer as we get older."
So it's really all about energy consumed vs energy burned off. If you're consuming a lot of energy - and sweet things have a LOT of energy - and yet not really moving your body...
"It's easy to understand how sweet things every day can tip the balance in favour of weight gain, as most of us do not do enough activity to burn off what we take in," Professor Thomas explains.
So if you do want to eat dessert - try to go for something that's also high in nutrients.
Lauren explains that the DAA encourages people to incorporate dessert if they are still hungry after dinner.