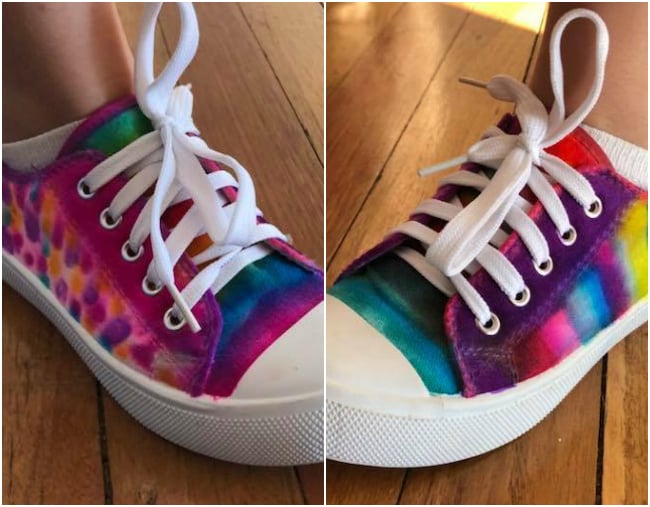 School holidays are an absolute blessing for teachers, but for the many parents who find themselves at home with their kids for two weeks, it can be a very expensive time.
When we think of school holiday activities, the first things that come to mind are expensive things like going to the movies, going on a holiday, or spending hundreds on holiday sports camps. Luckily, Australian mum Ally Poole has shared the perfect way to spend a day with the kids, and it's very inexpensive.
Sharing the hack in the 'Kmart Mums Australia' Facebook group, Ally's post received over 1,300 likes from grateful parents.
"Some school holiday fun: white canvas shoes on sale for $3.50, packet of sharpies and some rubbing alcohol. My daughter loves her new tie dye shoes," she wrote in the post.
"ETA: shoes were plain white canvas ones from Kmart, pack of sharpie textas in the stationary section and rubbing alcohol is in a green bottle the brand is Isocol with the bandaids at woolies."
"To make: colour in shoes in any design then drip the alcohol over the top to make the colours bleed. Leave to dry for 24 hours then spray with waterproof shoe spray available at shoe shops or maybe Woolies and Coles," Ally finished.
That's just four things required for an entire day's entertainment, and a new pair of shoes for the kids.
Parents commented on the post, sharing how good an idea the hack is.
"Great idea for the kids!!! Miss fussy might actually wear them if she makes them herself! Lol. She could do one of her awesome animae drawings on them!!" commented one parent.
"Something to do and new shoes…. win win," wrote another.
And it's not just for the kids, colouring in is a known stress relief for adults.
Dr Suzy Green, clinical and coaching psychologist, and the founder of The Positivity Institute, believes that the activity can help reduce stress, while simultaneously promoting wellbeing and calm.
"Colouring really is a mindfulness activity," says Dr Green told Mamamia. "There's research which shows that mindfulness decreases stress levels, and increases wellbeing. Mindfulness induces relaxation, and it's calming."
So put away those expensive movie tickets and get colouring.