It's the face mask that sent the internet into a frenzy. The bubble mask.
It's your childhood bathtime meets spa experience – and four Mamamia staffers decided to put it to the test.
Watch the video playing above to see how the face mask experience played out. 
We're talking two men, two women, one mask – and a whole lot of bubbles (incidentally, many of which we swallowed).
Inspired by Korean beauty trends, the premise of the bubble mask is that they deeply clean your pores and remove all the dirt and oil.  The formula reacts with the oxygen to create the bubbles, which allow the active ingredients of the mask to get deeper into your skin.
While many are liquid or cream formulas that you apply directly onto your skin, we tried Skin Republic's Bubble and Charcoal Purifying Mask, $5.99, which combines a charcoal sheet mask with bubbly foam.
Watch what happened when we tried the masks in the video above. 
Needless to say, we were all a little nervous.
I was convinced the bubbles wouldn't stop growing and they'd eventually suffocate me. Luca, the "not a face mask kind of guy", said he'd "already had an oxygen facial on his walk to work".
Once we'd spend ten minutes trying to open the bloody packet, we were ready to start.
The first step is to rub the packet to activate the bubbles. Then apply mask on your face (be warned, it's rather slimy as Luca and Josh quickly found out) making sure to line up the holes for your eyes, nose and mouth if you know, you want to be able to breathe.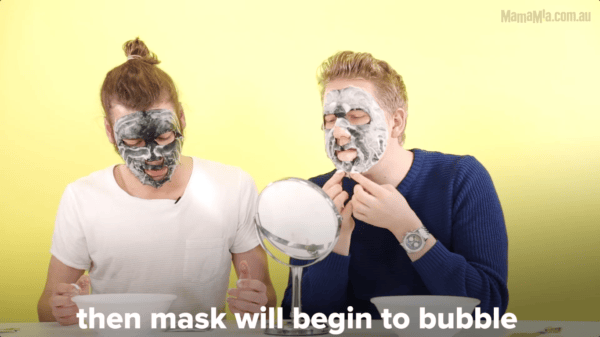 Yes, it's perfectly normal to look like a serial killer.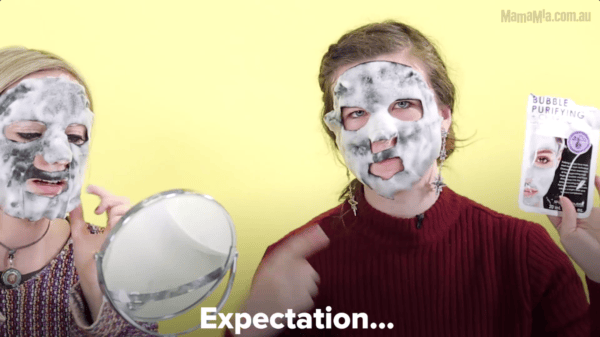 In the 15-20 minutes you're required to leave it on, let your imagination go wild. Scare the postman or small children! Rob a bank! Or you know, take several thousand snapchats or Instagram stories for quality content.
Surprisingly, it felt quite gentle on the skin, with a mild fizzing sound.
"It feels like I'm in a cloud," Jessie said.
Once the time is up (and please do remember to set a timer unlike us) remove the mask and rub any excess bubbly stuff into your skin. This is where this face mask did begin to feel a bit novelty, given the bubbles sat on top of the sheet mask so required an extra step to get the full benefits of the trend.

That said, the results are quite pleasant. Our skin didn't feel super dry or tight, instead feeling soft and hydrated, albeit a little red.
And we definitely all had six packs from laughing so hard at each other.
"I'm not sure it did anything but it was a nice experience," concluded Josh.
#ForTheSnapchat
Have you tried a bubble mask? What did you think?