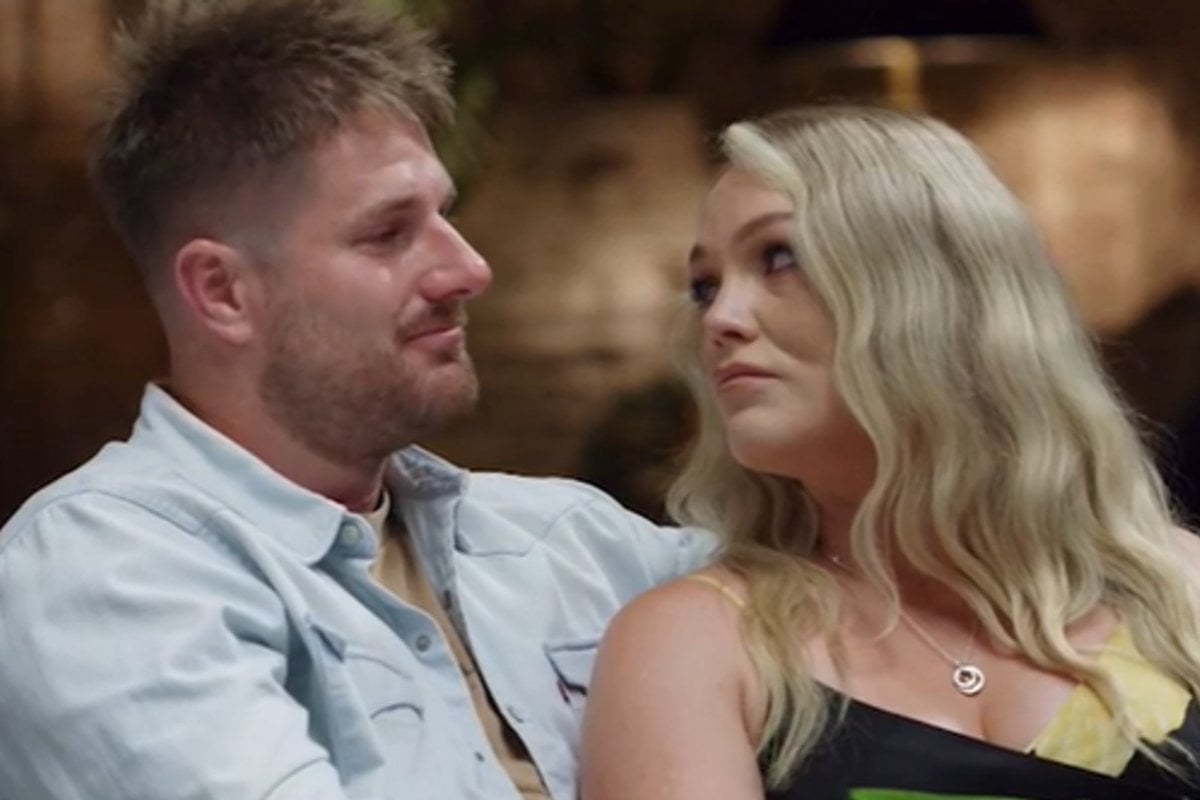 Last night, the final episode of season eight of Married at First Sight went to air, marking an end to one of the most controversial seasons of reality shows ever broadcast in this country. 
More people watched the finale of Married at First Sight than watched Oprah Winfrey's history-making interview with Meghan Markle and Prince Harry. With almost 1.4 million viewers, last night's episode was the highest rating program of the year. 
Even those who have not watched a moment from the 32 episode series (of which, statistically, there must be few) have heard the names Melissa and Bryce. 
For those lacking context, it is difficult to know where to begin.
Perhaps with the petition.
A Change.org petition demanding Channel Nine apologise for failing their duty of care for Melissa garnered more than 15,000 signatures earlier this month. 
Melissa was matched with Bryce who routinely criticised her appearance, threatened to leave when she held him to account, isolated her, and, apparently, sustained a romantic relationship with another woman outside the experiment while 'married'. 
More than six people came forward during the season to confirm that Bryce had a girlfriend in Canberra and had only signed up for the show for publicity. 
When women shared with Melissa what they knew, Bryce accused one of being "in love" with him, and another of being "crazy". 
And last night, Melissa sat beside Bryce as they both watched footage captured of Bryce's friends. 
Believing the cameras had stopped rolling, his friends confirmed the rumour. Bryce did have a girlfriend, and he'd attempted to send her a gift. 
What followed was the most disappointing moment of the season. 
And it wasn't the words that came out of Bryce's mouth. Or the look of resignation worn by Melissa.
It was the silence of the experts. 
Bryce tried to explain that his friends were encouraged to say that by producers. A lie which doesn't even almost make sense. 
Expert Alessandra did question his logic. Why would Bryce's friends try to make him look bad on television?
Melissa knew Bryce was lying. That was clear to everyone in the room. But ultimately, she said she's "never been happier" and "if it's true, we'll work it out if we can".
The experts said nothing.
Booka asked Melissa what to do when they hear rumours about Bryce's infidelity. Would Melissa prefer they not tell her?
Simply, yes. 
"I know the evidence continues to pile up," Melissa said. "But I'm in love with Bryce."
In front of Melissa sat a relationship specialist, a relationship expert and confidence coach, and a sexologist. 
Not one of them voiced their concern that Melissa is willing to accept just about any behaviour, because she is in love with the man responsible for it.
When Bryce expressed their plans to get married, adopt a dog together and have children, the three experts nodded. 
Again, there was silence. 
Months prior, if the show's premise is to believed, these three people chose to match Melissa, a woman who had been single for 12 years, with Bryce. 
They might not have known that Bryce could be manipulative. That he could gaslight his partner and lie and criticise her. 
But they did know Melissa was vulnerable. 
And they matched her on national television anyway. 
An argument could be made that reality television simply holds a mirror up to the culture consuming it. 'Bad' relationships are everywhere. It just so happens, this season we saw one play out on prime time. 
But what is the point of having three experts, if not to intervene when it looks like one party is being manipulated? 
What responsibility does the creator have when they produce a Frankenstein? Simply wish their monster well, and turn their backs on the real-life consequences? 
As Bryce mapped out their future, his arm possessively around Melissa, John Aiken said: "We hope that the future, the goals that you've got, you're able to go after them together. We wish you all the best."
The other experts wished them the same. 
If any warnings were vocalised (which could very well be the case) they were cut from the episode that aired. 
And so 1.4 million viewers watched a troubling relationship unfold on their screens, devoid of interrogation. 
Bryce and Melissa posed Married at First Sight the opportunity to explore what a toxic and unhealthy relationship looks like. 
They platformed one without dissecting it. 
Bryce and Melissa might be in love. 
But a relationship expert ought to know that sometimes, that's a very, very dangerous place to be. 
Feature Image: Nine. 
Sign up to the Spill.
Your daily pop-culture fix, in your inbox every weekday.