We've rounded up all the latest news from Australia and around the world – so you don't have to go searching.
1. Brussels attacks: the latest — bomb maker on the run as it emerges one airport suicide attacker left "will" on computer found in a bin.
Authorities are searching for the bomb maker in the Brussels terrorist attacks that killed 31 and injured 270 people.
Two of the suicide bombers have been identified as brothers Brahim El Bakraoui, who struck at the airport, and Khalid El Bakraoui, who struck at the metro station.
The second airport bomber has not been identified and a third, believed to be Najim Laachraoui, is now on the run.
In a press conference on Wednesday afternoon, prosecutor Frederic Van Leeuw confirmed that a suspect is still on the run but he did not name him as Najim Laachraoui.
He said: "A photo showing the three suspects has been issued and one of them has been identified, Mr Brahim El Bakraoui, because of his fingerprints, and he is of Belgian nationality.
"The second one on the left of the photograph has not been identified. The third one, in a hat, is still on the run and his bomb did not explode. It contained the biggest explosive charge and there was great instability of the explosives."
One of the terrorists, Brahim El Bakraoui, left a note, which police found. It says: "I don't know what to do".
Prosecutor Frederic Van Leeuw said the note was found on a computer in a bin during a raid in Schaerbeek in which El Bakraoui wrote: "Being in a hurry, I don't know what to do, being searched for everywhere, not being safe, if it drags on it could end up with me in a prison cell next to him".
French media have reported that the "cell next to him" is a reference to Salah Abdeslam, the man captured last week in Brussels, thought to have been on the run after the Paris attacks.
In other developments:
The first victim of the Brussels attacks has been named. She is Adelma Tapia Ruiz, 37, mother of twin four-year-old girls from Peru. She was killed in the bombings at Zaventem Airport.
Witnesses now say the first blast at the airport took place at an excess baggage payment order, and the second near a Starbucks cafe.
Brussels has held a one-minute silence after the attacks.
Airport authorities around the world are examining whether security scanners could be installed at the entrances to airports.
Australian border protection and Customs staff will remain on duty at international airports throughout the Easter weekend after calling off planned strike action in the wake of the terror attacks.
The head of the world's largest Muslim coalition has added his voice to the international condemnation of the attacks. Iyad Ameen Madani, the secretary general of the Organisation of Islamic Cooperation, expressed his condolences to the families of victims and to the Belgian people
The Queen and Duke of Edinburgh have said they are "deeply shocked and saddened" by the Belgium terror attacks. In a statement posted on Twitter signed "Elizabeth R", the Queen extended her sympathies to those affected by the "terrible series of events".
2. Families search for missing loved ones.
Scores of families are anxiously searching for loved ones thought to be injured in the Brussels attacks and now missing. The wounded are spread among several hospitals and many of the dead have yet to be identified.
One woman, Aline Bastin, 29, is a Belgian local. Her friends put out this post on Facebook.

Another man, a British, had contacted his family after the airport blast went off assuring them he was alive and well. He then made his way to the metro station.
3. House searched in relation to the suspected murder of schoolgirl Tiahleigh Palmer.
Police in Brisbane have searched a vacant house in Logan, south of Brisbane in relation to the murder of Tiahleigh Palmer.
The 12-year-old last seen at her Logan school on October 30 last year, her body was found by a river on November 5.
Police yesterday began a search of a vacant property near her school.
"Police can confirm investigators are currently at a Logan Reserve Road address in Waterford in relation to the ongoing homicide investigation of Tiahleigh Palmer," the police statement read.
"No further information is available at this time."
Nicole Clarke lives next door to the house told the ABC she was friends with Tiahleigh's mother Cindy when they were children.
"I'm just sick to the stomach," she said.
The house has been recently vacated.
4. Father says justice has let him down after Court of Appeal rejects appeal on the sentence of man who killed his wife and daughter.
A Melbourne father says he is devastated after a Court rejected an appeal after the man responsible for a car accident that killed his wife and daughter escaped jail.
Stephen Borg, then 22, escaped a jail term for the double killing of Theresa Hutchings and her daughter Mikayla in November 2013.
Yesterday the Court of Appeal found there was no justification for Stephen Borg escaping a jail term but it refused to uphold an appeal by the state's Director of Public Prosecutions, blaming prosecutors for a two-year delay in the case.
Borg avoided jail and was instead handed 500 hours of community service and a two-year driving ban as part of a five year Community Corrections Order, reports The Herald Sun.
Robert Hutchings told media outside the court the decision had left him devastated.
"Well that's it, that's justice," he said.
"Today they had a chance to right what they acknowledged was wrong. This is just another kick in the face.
"I don't get it. Appeals are supposed to say this is what went wrong, this is what should have been done, and then fix it. Do the right thing.
"That's not the right thing, that's just kicking victims in the head, again."
5. Woman drunk on school run.
A Victorian mother, with a child in her car has been found to be more than three times the legal limit while on the school run.
The woman was breathalysed at 3.20pm outside the Horsham West Primary School on Hillary Street while waiting for her child to finish school, she had another child in the car with her.
Police said she tested positive for alcohol and was taken back to the station where she blew an alleged reading of 0.17 per cent.
6. Neighbours complain about a 'rainbow house' in Brisbane saying it's an eyesore, but owner says she just wants to cheer everyone up.
It's the home being called an "eyesore" – a brightly painted house in the Brisbane suburb of Grange painted by owner Jenny Schuster 11 different colours.
Ms Schuster told Nine News she wanted to bring some colour to the neighbourhood.
"We did it to brighten people up, to get them to drive past and get them to brighten up," Ms Schuster said.
But neighbours and passerbys have branded dirt a clown house that is an "eyesore."
7. We are paying through the teeth for our Easter Eggs (but boy are they worth it).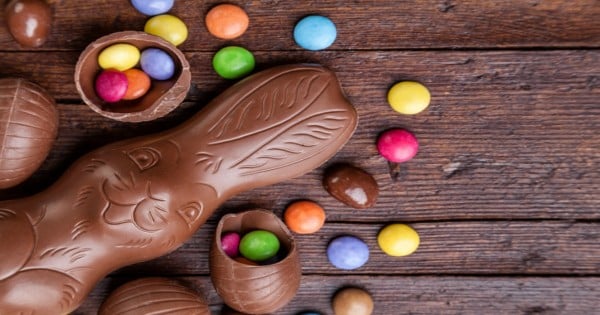 A study has found that we are paying premiums of up to 233 per cent on our Easter eggs compared with a basic chocolate block.
Comparison site Mozo found that gift sets have the biggest mark ups while a foil-wrapped solid mini egg bags is still good value.
(Phew!)
"Some of the nation's most popular chocolate manufacturers are cynically charging exorbitant mark-ups to cash in on Easter," comparison site Mozo's director, Kirsty Lamont told The Herald Sun.
The site found a Lindt bunny-and-egg set costing $13.33 per 100g — was more than triple the cost of the brand's milk chocolate block. While a Haigh's milk chocolate duck and mini eggs converted to $15 per 100g, triple its premium chocolate block unit price.
Cadbury, whose Twirl gift pack, at $5.62 per 100g, was more than double its classic Dairy Milk block told The Herald Sun the survey was not a fair comparison.
"Easter eggs and bunnies can be complex to manufacture. There's generally more manual labour required, and different technology, too."
Do you have a story to share with Mamamia? Email us [email protected]