Content note: This post contains images and discusses themes of pregnancy loss that some readers may find distressing.
Brisbane's Brooke Campbell has shared a photo of herself and her son Darcy with the rest of Australia. But the look on Campbell's face as she cuddles her son is not one of joy. It's one of unimaginable sadness.
Darcy died 36 weeks into Campbell's pregnancy, following a placental abruption.
Up until that point, the pregnancy had been smooth and uneventful. But in the early hours of August 28, Campbell began haemorrhaging, losing more than 1.7 litres of blood.
"I nearly died from blood loss," she tells Mamamia.
Listen: The Olympic swimmer says there was something to be grateful for in the wake of her miscarriage. (Post continues.)

She was rushed to hospital, along with her husband Elliot. While Elliot was bringing the bags out of the ambulance, Campell's obstetrician did an ultrasound. A horrified look appeared on the obstetrician's face. Campbell knew then that her unborn baby had no heartbeat.
"It was too late, as he was already gone," she says.
Campbell says it was a "cruel thing" to have to go through labour and delivery when she knew Darcy would be gone when he came out. But she chose not to have an "unnecessary" C-section.
When Darcy was born, he was placed on Campbell's chest. She says he looked "just so healthy and beautiful". She wanted him to gasp and take a breath, but she knew he wouldn't.
"I kept saying, 'Why? Why? Why? How can this happen to my baby?'" she remembers.
Darcy looked "perfect". He was 53cm long and weighed 3.3kg – the same as his older brother Noah at birth.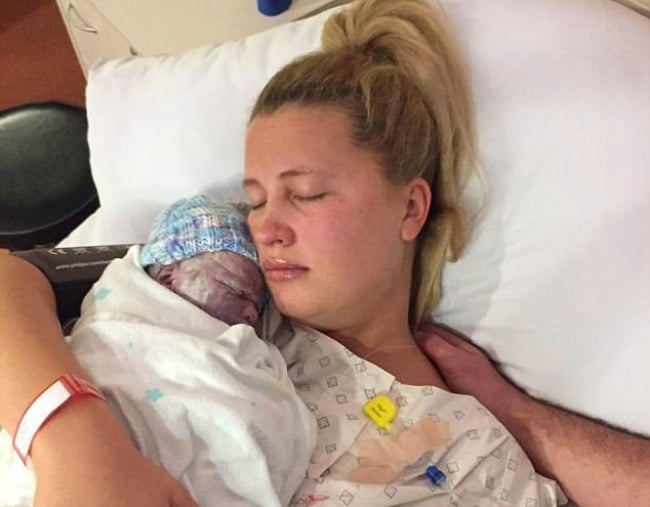 "He had very similar features to Noah. It was sad because there was not one thing wrong with him. Everything was formed and he was just too beautiful."
Campbell held her baby son to her chest all night, "just cuddling, kissing him and silently crying".
The hospital told Campbell and her husband they could spend as long as they wanted with Darcy.