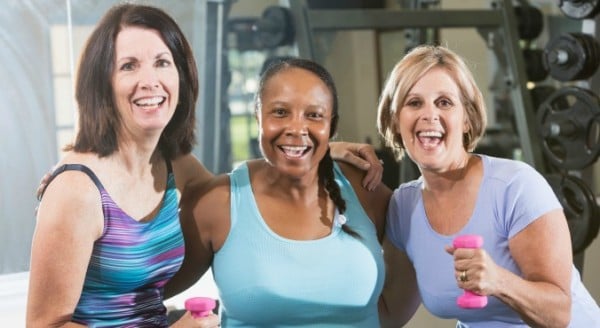 You need to make changes to your workout as you get older. Image via iStock.
Like many famous women, Britney Spears' weight has been constant headline fodder over the years.
After multiple ups and downs (unfortunately noted and analysed by anybody and everybody), it's great to see the singer looking happy and healthy. After taking to the stage at the Billboard Awards looking fabulous in what was frankly a KICK-ASS sheer cut-out black bodysuit, it's no surprise people are eager to know how she keeps fit.
Her trainer Tony Martinez (who also trains Janet Jackson and Pink) has shared her workout secrets, but there's one activity in particular that has fitness experts seriously concerned. (Post continues after gallery).
Britney Spears on Instagram
In preparation for Spears' ongoing Las Vegas residency, Martinez revealed he made the 33 year-old run backwards during the 'intense' 40 minute workouts they did three to four times a week.
"She loves to run, but I would make her go backwards," he told the Daily Mail.
RELATED: Jennifer Aniston just won Best Celebrity Fitness Routine
"She's like 'I'm gonna go backwards?' and I'd be like 'Yeah let's go on the treadmill and walk backwards.' She'd say 'I could lose my hamstrings and my glutes – what are you doing to me!?'", he said.
While this may sound like just another quirky, relatively innocent fitness trick, trainer Mark Moon says to think twice before trying it during your next gym session.
"It isn't something I would advise doing, unless you had a specific purpose for needing to improve your backward step. Maybe Britney was looking to improve her backward stepping for some upcoming dance routine that is yet to be revealed?" he says.
As you've probably guessed, walking backwards on a treadmill could end badly.
"For a fit person with good balance and coordination, it wouldn't be extremely dangerous, however I wouldn't put it in the safe zone either. For the average person, walking backwards would put you off balance and increase your chance of falling, twisting an ankle, or worse still looking like a twat in front of the other gym bunnies," Moon says.
RELATED: Are treadmills really safe?
Health and fitness expert of FitFantastic, Ali Cavill, believes the technique poses a number of risks.
"I wouldn't recommend it for a number of safety issues. Gym equipment should be used for recommended purposes which is to simulate running or jogging without going outside," she says.
"If you're walking backwards, you don't have the emergency stop button in front of you and it's much harder to monitor the speed and incline."