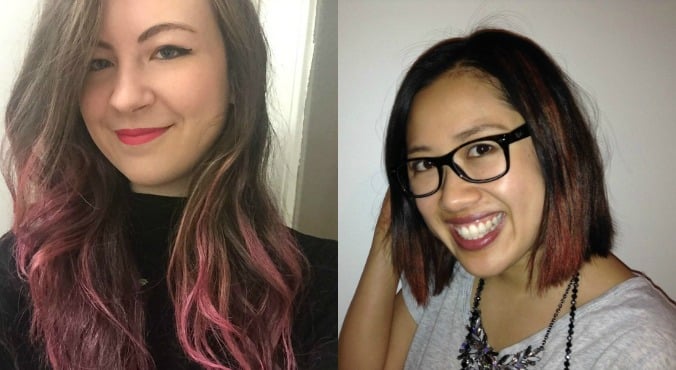 Image: Supplied.
In a time of of rainbow, Instagram-inspired, split-dyed, granny, sand-art and even colombre (coloured ombre – yes it's a thing) hair, I've always felt a little… boring.
Too scared to actually try any of them for real, even temporary options have eluded me thanks to my dark hair, which means NOTHING shows up. Well, until now thanks to the wizardry that is Brite Organix One Day Colour – ideal for even the biggest hair-dye commitment phobes as it genuinely only lasts one wash.
RELATED: We get to the bottom of every hairdresser's new obsession, Olaplex
Ethically made, totally vegan and available in your local Woolworths, the two options for dark hair are pastel pink and purple with a few more for lighter hair.
Feeling inspired by Nicole Ritchie and Kaley Cuoco I went for pink and enlisted the help of my sister to make the hair magic happen. (Post continues in and after gallery.)
Step by Step: Brittany goes pink
With my co-ordination it's certainly a two person job, but the at-home dye kit is easy to follow and reasonably quick to do – simply paint onto dry hair building up layers until you achieve the desired colour. Be sure to brush between each layer (I used the Lady Jayne Smooth and Knotless Detangling Brush $9.99 which doesn't hurt the head!) though to prevent the hair getting stiff.
The colour is immediate, which means you can easily see how subtle or bright you're going. Once dry, it won't transfer onto clothes, but be careful when applying it – when it's wet it could definitely stain. I wore an old T-shirt during the process just in case.
RELATED: Sorry to break it to you, but you're washing your hair all wrong
You can either leave the colour to dry naturally, or speed up the process with a hairdryer. Impatient, I chose the latter.
The one problem I found was that because my hair is curly, applying on my natural hair was not an option – brushing my curls would just turn them into a massive frizzy cloud.
To make the process easier, I straightened my hair beforehand then curled them once the colour was set with my Luxcurly Original to soften it a little bit, before setting with Cedel Hairspray ($3.99)
As for the results - I loved it. It got plenty of compliments in the office and, dare I say, it actually made me feel kind of cool.
While I know that I wouldn't want to go pink permanently, the fact that I can go brightly coloured overnight without the full commitment is certainly exciting.
TIP: Do be sure to do a proper strand test before you commit, just to ensure that colour is easily removable. If you are having trouble, try using a cheap shampoo as it is more likely to remove the dye.
Brite Organix One Day Colour, $14.99, available here and in your local Woolies.
Carla
When you have jet black hair, temporary hair colours can be hard to come by. Like Brittany, temporary tints and dyes won't show up on my stubborn black hair. So, you can imagine my joy and excitement in finding a temporary hair colouring product that actually works. That product is Redken Color Rebel, which is described on the packaging as "hair makeup".