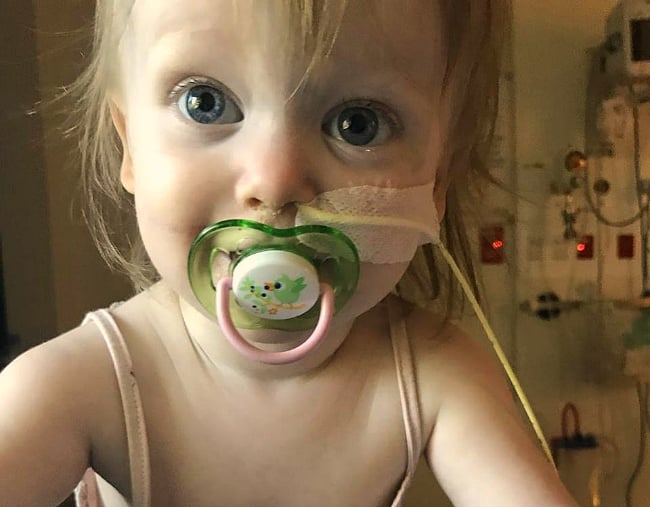 In Brisbane's Lady Cilento Children's hospital, 18-month-old Matilda 'Tilly' Mahon is recovering after her first seizure. While it might seem like a setback to most, to her mother, Jane Mahon, it's all the more reason to persist, to step up her pursuit of treatment for her little girl's rare disorder.
Tilly is living with Vein of Galen Malformation, a condition that results in abnormal connections between blood vessels within the brain. It's estimated to affect just roughly one in three million people, and there is no known cause.
Vein of Galen Malformation can lead to dangerous increases in blood pressure and even congenital heart failure; if not diagnosed and treated early, it can be life threatening. Ever since Tilly's diagnosis on February 12, Jane has devoted herself to tackling that threat.
"It's picked the wrong family, to be honest. It really has," Jane told Mamamia. "I kicked into gear, and looked into what do I need to do to get her better. Who I needed to send her to."
In the short term, they have their sights set on surgery in Melbourne; a delicate, high-risk operation that doctors told Jane carries a 20 per cent mortality rate. Once that is complete and Tilly is stable, the Mahon's hope they will find answers more than 16,000km away in Massachusetts. There, at Boston Children's Hospital, works Dr Darren Orbach, a specialist in vascular anomalies.
"They've treated so many more children over there," Jane said. "I want to know what happens when she grows, when she goes through puberty or has a baby. No one has been able to give me those answers here."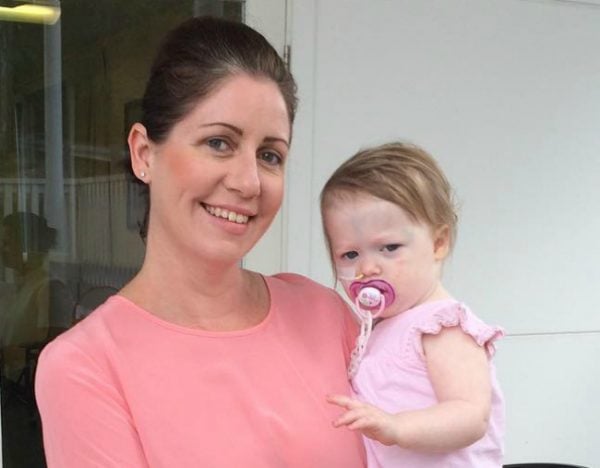 It was around Spring last year when Jane and her husband, Matthew, realised something was wrong with her daughter. Tilly had recovered quite well from a bout of viral meningitis in March, but was struggling to put on weight, and by October began reguarly vomiting. Sometimes in the middle of the night, without even waking; other times, first thing in the morning of an otherwise normal day.
"We just kept going back to the GP, who said it could be a virus. But it just got to the point that it was happening more days in a week than it wasn't. It was happening five out of seven days, and then by November it was nearly every day. Then [the doctor] was like, 'Okay, this isn't normal; we need to get this looked at.'"
A referral to a paediatrician revealed little Tilly's head was growing much faster than her body and, prepared for a diagnosis of hydrocephalus (a build-up of fluid on the brain), Jane and Matthew took their little girl to Lady Cilento for an MRI.
While doctors confirmed the diagnosis, they told the parents they had discovered its cause: VGM.
"[It was] devastating. I never expected to be one of those mums who has a critically ill child. I was very naïve in that respect," Jane said. "My son was growing up fine, perfectly healthy, and I had a perfectly healthy pregnancy with Tilly, so I didn't expect this at all."
Any sense of normalcy vanished overnight. The Mahons were stretched between home an hospital; Jane watching over Lilly while Matthew, a builder, cared for their four-year-old son, James.
"[James] knows his sister is sick, but he just wants her to hurry up and get better. He just keeps saying to me, 'Have the doctors fixed her? Have the doctors fixed her?' And just keep telling him, 'No darling, not yet. We have to go on a big plane before they can fix her.'"
In order to make that trip, Jane established a GoFundMe page, seeking help covering the $180,000 they will need for flights to Boston, accommodation, Tilly's initial assessment and testing. As of Wednesday, friends, loved ones and even complete strangers had contributed over $26,000, something Jane has found "absolutely incredible and so humbling".
While her husband was hesitant to make their struggle public, Jane felt it was for the best.
"I just said, 'We need to do something to get this treatment for Tilly. Otherwise we're not going to have her,'" she said.
"I need to advocate for her. She's 18 months old; I'm her voice. And we need to get her well. We need her to grow into a sassy teenager that comes home with boys that we don't like. I want that. Those normal things."
To help the Mahons, please donate via the 'Get Tilly to Boston' GoFundMe page. The family has pledged that any unused funds will be donated the University of Queensland as a bursary for a PhD student studying neurosurgery or radiology.
Want to win some skin care goodies? Like to have your opinion heard?
Take our short survey now for your chance to a win a skin care pack.
Shout out to all Dads.
Here at Mamamia we are always looking for ways to make Mamamia even better. Dads, we need you to help us do that by filling out this quick 15 min survey for us. Click the button below for your say.